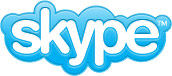 Ever since eBay bought Skype back in 2005, there's been wild speculation on how eBay will integrate Skype into its services. Today eBay Australia's head of community and PR Daniel Feiler said there are no further plans to integrate Skype into eBay's auctions or communications services beyond what is already capable to include Skype buttons in auction listings.
During the "living online" session at the Influence Forum 2007 in Australia, Sarah Stokely from lifehacker asked the question if and how eBay plans to extend the Skype integration into eBay. Another attendee also noted how eBay doesn't even use Skype to provide customer support services.
It sounds like eBay doesn't really have a plan for Skype, or at least not in Australia. However Daniel did note there are particular regional eBay markets where Skype has a much higher rate of adoption.
One journalist also had a personal issue with PayPal which he felt was suitable to share with everyone in the forum.