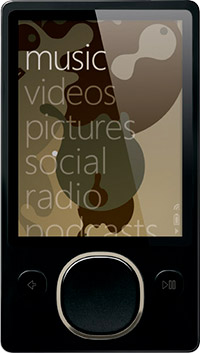 November 13 "Z-Day" is fast approaching and Microsoft's got one last magic trick up its sleeve for the 2nd-generation Zune.
Earlier today, the ever-reliable ZuneScenes.com reported on an insider source leak describing various pre-purchase hardware customization options for the Zune 80 – including color, text and logo etching. This offer will be free to customers who order via zune.net. Then the source goes on to explain how the Zune team will slice the heads off anyone who leaks this information early. Ouch, because no other than Microsoft itself has confirmed the rumor, twice in fact.
First, a user on Gizmodo had the idea of looking at the domain records for zuneoriginals.com. Not surprisingly the owner is indeed Microsoft who registered it on June 9, and last updated it November 9.
Registrant:
Microsoft Corporation
Domain Administrator
One Microsoft Way
Redmond, WA 98052
US
Created on..............: 22-Jun-07
Expires on..............: 22-Jun-09
Record last updated on..: 09-Nov-07
To give more weighting to this domain proof, all of the TLDs (zuneoriginals.com, zuneoriginals.net and zuneoriginals.org) are all redirected to zuneoriginals.net. And on the placeholder page is no other than the Zune logo.
Secondly, Microsoft posted a new knowledge base article 944404 on November 2 titled "Description of Zune Originals". Although this article is currently inaccessible due to obvious reasons, it is clearly recorded on kbupdate.info which tracks new Microsoft knowledge base articles even though if they are unavailable. No doubts this document will contain intricate details about Zune Originals after November 13.
Together, this is pretty solid evidence of the existence of Zune Originals. I have no doubts every other detail leaked about Zune Originals would be true too. But we won't have to wait very long to see the magic trick from the magician himself.