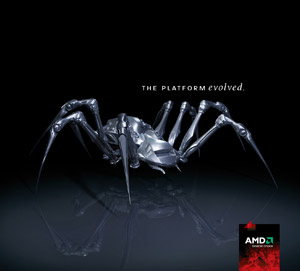 This week, Christmas came early in a big black box code-named the "Spider". It has a (engineering sample) quad-core Phenom 9700 2.4GHz processor, AMD 790FX chipset and an 256MB ATI Radeon HD 3850 graphics card.
Hector Ruiz could very well be Santa and his PR people, elves.
Needless to say it's been a pretty tough year for Advanced Micro Devices. Starting from August, chief of sales and marketing officer Henri Richards announced to leave the company. Then came the fourth consecutive quarter net loss of nearly $400 million, total net loss of over $2 billion. More recently, AMD became less valued then what it paid for ATI last year. To the company and its many loyalists, all bets were on Phenom and the next-generation ATI Radeon graphics card.
Shortly after the announcement of Spider and Pheom, benchmarks started trickling out with not-so-good news. At least early-production Phenom review samples suffered problems with stability in what is now known as the TLB errata. If that wasn't enough, the only workaround resulted in dramatic performance loses. As an outsider at the time, it seemed like quite the tragedy.
Having exhaustively used Spider for two day now, I see no reason why AMD will "fall", in fact I believe AMD's on the right path to reclaiming its former Athlon64 glory. It's not there yet, with Intel's Core 2 Extreme and Nvidia's Geforce 8800-series delivering marginally better performance, but there's room for improvement down the road..
Platform-wise, Spider is actually a great idea. Sure, it's purely marketing and branding but it's worked wonders for Intel.
The benchmark is of course, Centrino, Intel's platform for mobile computing. Soon enough, people were buying exclusively Centrino laptops because there was a standard of quality and compatibility that came with the combination of Intel processors, chipsets and wireless cards. To the average consumer, that meant a better laptop experience without all the cryptic model numbers. Unfortunately Intel could not repeat the magic with Viiv.
For AMD, Spider is a high-performance computing platform which describes the combination of a Phenom 9xxx processor, ATI Radeon 38xx GPU and the AMD 7-series chipset. To average Joe, Spider means the computer will deliver enough horsepower for all the latest blockbuster games and entertainment.
If Joe (and remember Joe doesn't read 500 RSS feeds) walks into a store and sees one computer with "Spider", and another with "Intel QX6600, NVIDIA Geforce 8800GT, NVIDIA Nforce 690i", you can see where AMD has the upper hand.
Performance-wise, Spider is nothing short of a top-tier experience. Again, it's not number one, but it's pretty damn close.

I trust Windows System Assessment Tool (WinSAT) to be a pretty good judge of real-world performance and in this case it's peaked at 5.9, the artificial limit imposed by Microsoft currently.
Currently my system is far from the default factory state, so I won't post any synthetic benchmark results since they're a little disconcerting, but there's plenty of professionally-accredited benchmarks to go around. I believe my Phenom 9700 chip also suffer from the TLB errata which adds at least a 10% performance burden. Fortunately this problem will be fixed in the retail versions shipping next year.
Playing Team Fortress 2 at 1680×1050 with 8xAA and 16xAF around 70fps constant is easily just short of pure bliss. I've also been able to finally experience Crysis for the first time which looked fudging-unbelievable under DirectX 10. Remarkably the Radeon HD 38xx series is also the first to support DirectX 10.1. Last but not least, a game which is not receiving as much attention in benchmarks as it should, Solitaire also runs very well.
Windows Vista, since it's multithreaded, also benefits a great deal from the quad-core processor. For example, I no longer see a "Welcome" screen as it zooms right from the pearl animation to my desktop. Only if I could type four times as fast, I'm sure Word will also benefit from the performance boost.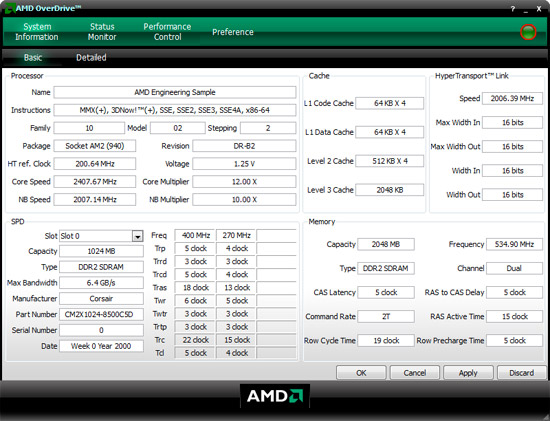 Another benefit of the Spider platform integration is the AMD OverDrive tool. It is a Windows environment overclocking tool targeted at more amateur enthusiasts who want more bang for their buck. Because it is Windows based, it is inherently less risky than down-and-dirty BIOS overclocks. It has the added benefit of live feedback through the built-in benchmark tool which you could run to see immediate results. Don't expect to break 3DMark records with this tool, but it's a nice gesture at the enthusiasts from AMD.
In conclusion, Spider is a meaningful brand and a great desktop platform. For Phenom, a few early adopters suffer the fate of a rather significant design flaw, but hopefully when the Phenom models (re)launch early next year, the problem will have been fixed. For ATI, Radeon HD 38xx is a great high-end GPU that only falls a little short of the more expensive NVIDIA counterparts. But if money is no object, you can't go wrong with four of them in CrossFire X configuration.