Over the last few days I've noticed Digg.com has slowed to a crawl where it would take up to a half a minute to load each page. At first I thought it was Digg, but then I noticed "connecting to ads1.msn.com" in my status bar when apparently nothing would happen. Is there something wrong with Microsoft's advertising network?
One of the many neat features in Firebug – a web-developer extension for Firefox – allows the monitoring of network traffic when loading a web page. This is extremely useful to track down causes for slow loading websites.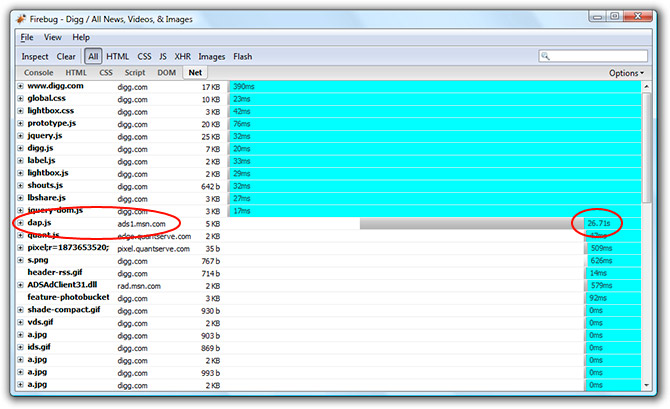 In this case, Microsoft's ad servers (in particular, ads1.msn.com) is taking around 27 seconds to respond to the request for a simple 5KB Javascript file used to propagate websites with banner advertisements. In contrast, Digg's server responds on average in less than 100ms.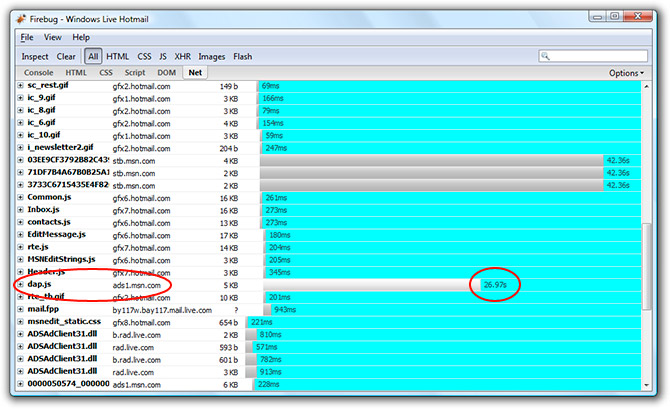 On another site, Microsoft's own Live Hotmail, the advertising banners served by ads1.msn.com and takes around 27 seconds as well to load. However unlike Digg, Hotmail's ads are not placed at the top of the HTML so it does not hinder displaying the rest of the page's contents.
Whilst this problem does not seem to affect everyone – otherwise Digg users would have already revolted – but at least two other Digg users also experience the same problem and are coming to the same conclusion. Furthermore, this happens more often then not, which means in few cases when it does load normally, it's fast.
There's something seriously wrong with Microsoft's ad servers, whether that is a short-term technical glitch or long-term load capacity problem. In either case, Microsoft needs to fix it fast. If they plan to be second-to-Google, bringing down the internets serving merely Flash banners is not a good start.
Update: Microsoft.com Downloads seems to be affected too.