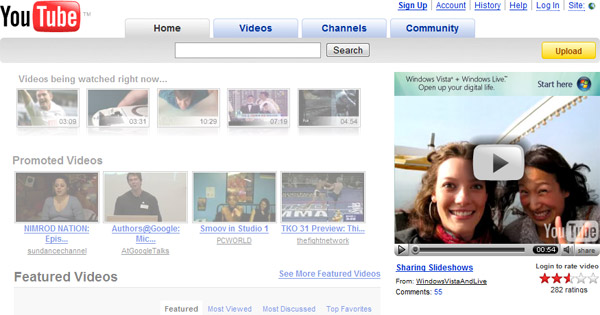 If you've been wondering where all the advertising for Windows Vista has disappeared to, look no further YouTube. Starting from last week, Microsoft has begun uploading a series of original short videos showcasing a combination of Windows Vista, Windows Live and Office 2007 experiences.
Unlike the $500 million heart-warming "Wow" campaign at the start of the year, this campaign focuses much more on functionality with realistic end-user scenarios and clear benefits on how using Windows Vista, Windows Live and Office can help get the job done. Perhaps this marks the beginning of the $300 million more Microsoft's throwing into the Vista advertising pool.
The videos themselves are well-produced with scenarios most home users can associate with, such as making a panoramic photo. Instead of just talking about the benefits, it's good they actually demo the products in-use from beginning to end to show how it can be done.
Unfortunately for Microsoft they've also left the floodgate wide open for 'constructive criticism'. As usual, streams of Microsoft-bashers and users with Vista horror stories have taken it upon themselves to let the world know how much better the other operating systems are.
For example user 'dasBaum1234' wanted to share, "haha windows you suck so much. You faked everythibg from Mac OSX Tiger und you didnt get that right. YOU SUCK SOO MUCH!". What dasBaum1234 doesn't know is that Vista is not a person, and should not be referred to as "you". However his argument is indisputable so it really doesn't matter.
Sharing Slideshows
Managing multiple email accounts
Creating Panoramas
Video Calling
Emailing Photos
Sharing Photos on the Web
Sharing Memories
Staying In Touch
Get More Done