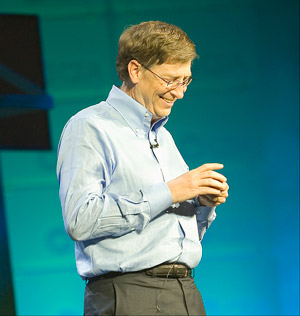 Photo credit: Flickr user
Domain Barnyard
Mark your Google calendars. Bill Gates' departing Consumer Electronics Show 2008 pre-show keynote is happening this Sunday. If you're not in Las Vegas to see it live, Microsoft has generously set up a series of tubes so you can watch blobs of Bill and co. from the comfort of your very own home.
The show is scheduled to begin at 6:30pm Pacific US Standard Time but it never does, however be sure to get in early before the tubes are clogged like they always do. Start from the highest quality feed and work your way down. The webcast URLs are:
Alternatively, download the details for this event (iCal) to import into your calendars.
Expect to see new stuff from Windows Vista, Windows Mobile, Windows Auto, XBOX 360, Zune, Windows Media Center, Windows Home Server and Mediaroom (IPTV). Should be a great "going away" show.
Update: You an also stream the webcast via the Silverlight-powered Microsoft @ CES website. It uses the same streams so the quality will be identical, however you'll miss out on the ability to full-screen the video. Interestingly, looking through the XAML sourcecode reveals a full-screen button and function already in code, but it's been commented out for some reason. Guess they don't want you looking at Bill Gates really big.