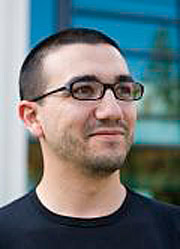 If you have the slightest curiosity of what the next version of Windows will look like, then keep an eye on Manuel Clement. The trick is to use your peripheral vision and not stare, otherwise they'll sue for harassment.
He leads a relatively new design group at Microsoft Design called XDR, which stands for Experience Design and Research and is responsible for all the interaction design of future versions of Windows, Internet Explorer and Windows Live. Even though they've just moved in, already they've started redecorating Windows Live with the new glossy theme you see in Wave 2 products. One can only imagine what they'll do to Windows.
Manuel's design work can already been seen in Expression Blend, Windows Vista Upgrade Adviser, Microsoft Nice and even vector glass in Longhorn. If there's one person who knows their way around XAML, it's Manuel.
Recently, Manuel gave an interview to the Expression newsletter (December edition for those of you playing at home) in which he reveals a bit about himself, his past and his work. Here's an excerpt.
Hi Manuel, you are a lead of XDR. Can you tell us what it stands for? What is your background and what are you doing?

XDR means "(User) Experience Design & Research". We are in charge of designing the user experience including interaction models of the Windows operating system as well as the Windows Live connected services (Messenger, Spaces, SkyDrive, etc) and Internet Explorer. UX Lead means User Experience (Design) Lead. Essentially I manage a team of people and I also contribute to the design of various products as a Designer. My specific team designs Common Controls, UI Patterns, Alternative Input (handwriting, touch, voice), Live Mobile-Client integration, UI Platforms. My background is a blend of programming, visual, sound and interaction design. I have also published a number of books over the years, on Photoshop and Flash.
How do you see UI in 5 years? Do you see Multi Touch screens, such as Microsoft Surface, as a direction for the future?

At a high-level, some interesting concepts come to mind for the future of user interactions over the next few years: using multiple screens in various locations or rooms, ubiquitous wireless internet connection, carrying your personal data on you – either stored on a physical device or accessible from any connected device/computer. Alternative input models will also start to become refined and a part of people's lives: handwriting, voice, multi-touch. Things like Photosynth and Surface, as well as Vista AERO and Zune's media player software and device UI, give us an idea of what faster graphic processors and richer UI Platforms will enable in the future. To me, it is all about making it more comfortable for people. Enable them to do what they want to do more conveniently.
I encourage all Windows enthusiasts to check out the full interview at the Expression newsletter website. Expect more Manuel stalking coverage on this blog in the future.