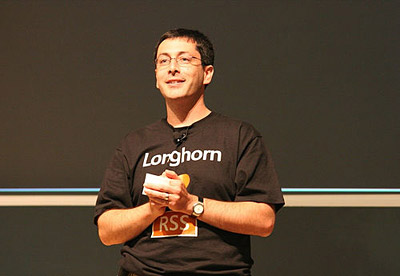 Dean Hachamovitch. Photo credit
Laughing Squid
.
During December of 2007, Microsoft had a conversation with several bloggers reassuring them there will be disclosure of Internet Explorer 8 at MIX08. At the time, the MIX website did not contain any hints to where that disclosure might occur.
With only a handful of weeks to go, the MIX08 agenda was silently updated sometime in the past week to confirm Dean Hachamovitch as an opening keynote speaker. His presence at MIX could very well be the first public demonstration of IE8.
For those who doubt my sleuthing skills, here's a Google Cache copy of the agenda page from January 28 without Dean.
Dean of course is the General Manager for the Internet Explorer team at Microsoft with a conspicuously difficult to pronounce last name. You might remember him from such memorable blog posts as "please don't mistake silence for inaction" and "Internet Explorer 8 and Acid2: A Milestone". Some speculate he was pressured to speak out about IE8 only after Bill Gates had said "he'll look into (the silence over IE8)". You can also see more of Dean and his legs on his Channel9 interview with Robert Scoble.
At the time of writing, the speakers biography page has yet to be updated with Dean's profile so "schedule subject to change" definitely rings true. A sessions search with the keywords "Internet Explorer" still yields zero results. Hopefully they can finalize the session details sooner than later and we'll see a much bigger presence of Internet Explorer at MIX.
Update: Four days later, the news reaches Microsoft. 😛