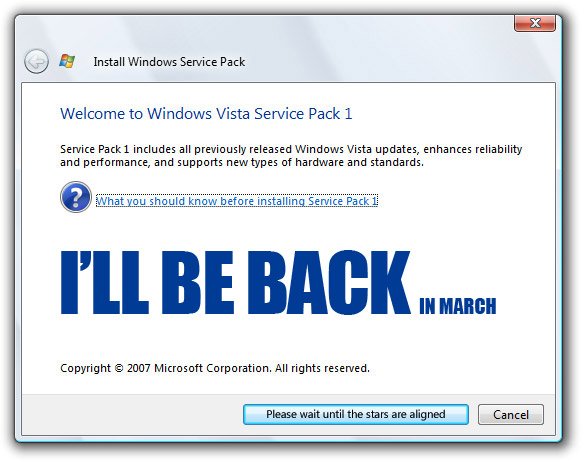 Why it is going to take Microsoft more than a month to deliver Windows Vista Service Pack 1 over its digital distribution network, Windows Update, from release-to-manufacturing date is beyond the capacity of my understanding. Although notably the Mardi Gras is in March, maybe that has something to do with it.
Update: Some have pointed out that the delay is in fact due to some driver problems on existing Windows Vista computers that prevents a flawless upgrade. The bizarre thing is that they're not spending a month working around the problem, assuming they can. They're going to spend a month working out which drivers are problematic, and when March comes around, Windows Update is only going to alert and prevent those users with faulty driver installs from installing SP1. They're delaying a benefit to potentially millions of users because some driver programmers made a boohoo.
Still begs the question why advanced users can't download it from Microsoft.com Downloads today. What difference does it make in March?
Having installed SP1 RC Refresh 2 flawlessly, I can vouch for the improved Vista experience even if it's a unmeasurable amount. There is no reason not to install it, and everything you gain is a bonus.