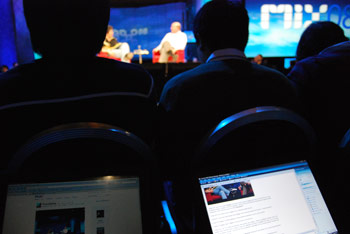 Ever since I read my first Engadget liveblog, it's something I've always wanted to try out for myself. Unfortunately it never seemed like the right time, nor did I have the right tools. Of course, I'm not alone in the liveblogging craze.
Today, Rafael Rivera and I tried for the first time a Rube Goldberg-inspired process which not only made our MIX08 keynote liveblog possible, but also efficient and hopefully fun to read as well.
We had a few people sitting around us wondering what sort of magic we were doing – like a photo I take would automatically appear on Flickr in a handful of seconds and then my blog in a couple of minutes – so I wanted to share how it was all done so you too can try it if you want.
You will need:
A dSLR camera (Nikon or Canon)
A friend who assumes the role of the writer/photographer (spelling and a firm hand respectively)
Two laptops, one for each person (role).
Internet connectivity (good upload, download irrelevant, WiFi will work)
Most importantly, an interesting event with animated presenters.
Softwares and tools:
Remote camera capturing software – stream pictures taken from your camera directly to your computer
Flickr account – store your photos
Foldr Monitr – a software which monitors new photo images and uploads them to Flickr
Windows Live Writer – offline blogging software
Flickr4Writer Live Writer plugin – quickly embed Flickr images in your blog posts
Setup:
Check the camera compatibility of the above software's as not all dSLRs are supported.
If possible, switch your camera to MTP USB mode (not Mass Storage).
Plug in your camera via install. Install your camera drivers.
Install the appropriate remote camera capturing software.
Download and install Foldr Monitr. Authenticate your Flickr account for this software.
Download and install Windows Live Writer.
Download and install Flickr4Writer plugin.
On the day:
Step 1. Get to the event as early as you can to get the best possible seats. Even if you have a press pass, don't show up 10 minutes before the event starts. Remember to save a seat for your friend if he's not there with you.
Step 2. On the laptop which will be handling pictures, make a new folder on the desktop which will store all the pictures. Start the remote capturing software and configure the output directory to the one you just created. Start Foldr Monitr and also change the directory appropriately.
Step 3. Start Live Writer on the other laptop and prepare a new blog post. Click "Insert Flickr Image" on the sidebar and fill in the Flickr username as required. Also it might be good to write a short description about the event and insert a "post split" before you overflow your main page.
Step 4. (Photographer) Start snapping pictures. Wait about 30 seconds for them to be uploaded for high-resolution images and poor connectivity. (Writer) Start writing short summaries and commentary about what's happening.
Step 5. (Writer) Once in a while click the "Insert Flickr image" link and then "Search". Find an appropriate photo you would like to include, then click Insert. Remember to "Publish" your post once in a while or the updates will not take effect.
Step 6. Rinse and repeat as required.
Step 7. ??????
Step 8. Profit!!!
After the event:
Clean up the blog post by correcting formatting and spelling mistakes.
Add additional pictures if there are any that's appropriate or particular interesting.
Categorize your Flickr photos into a set and make a link to it at the end of your blog post.
Tips:
Photographer

Take lots of pictures, but not too many. You don't want to miss something unexpected, but at the same time you don't want to clog your bandwidth and build a queue of pictures from minutes ago.
Use speed-priority mode in your camera. The combination of low-lighting and fast-moving actions results in blurred pictures very often. A shutter speed of 1/80 is optimal.

Writer

Keep the summaries short and concise. You're not a transcriber.
Learn all the Live Writer shortcuts.
In the end, have fun and don't make it a burden. Put in as much work as you think is necessary to make it enjoyable to read if you were someone not at the event and who's DoSing your server. Look forward to doing more of these and reading more live blogs.