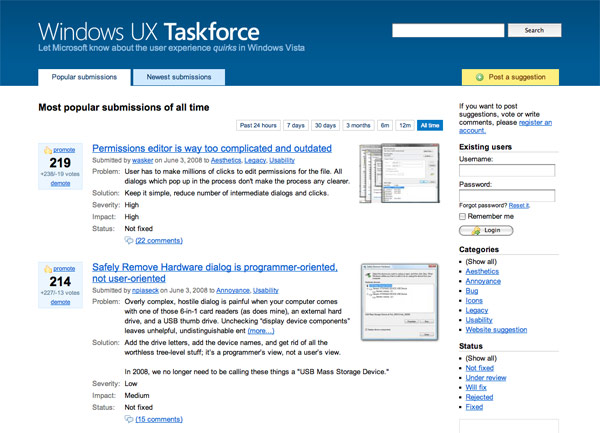 The Windows UX Taskforce is now feature complete. In the past 7 days, I've implemented all the features I had originally planned (and much more) to facilitate the community Windows user experience feedback site I require for world domination. If you haven't already checked it out, then head over to www.istartedsomething.com/taskforce.
For those who like numbers, here's some interesting stats from the past 7 days.
18,128 votes casted (average 100 per hour)
449 submissions posted
1,633 comments written
573 registered users
159,000 hits since its launch
The amount of quality submissions received so far is pretty amazing. There's a few submissions entirely off-topic and the occasional "Save XP" banter, but I must admit I'm really impressed by how much attention to detail some users pay to the Windows user interface. And I thought I was picky. Of course, all of this wouldn't mean much if none of these are ever addressed by Microsoft.
Speaking of that, I've heard some encouraging words from in and around Microsoft that none of this is going by unnoticed. The details are sketchy but apparently people in the Windows Experience group who are responsible for the Windows user experience are well aware of the site and have even browsed through the list of feedback thoroughly. This leads me to the next step.

Ideally, I want Microsoft designers and developers to be a part of the conversation. I've already implemented the necessary functionality to allow them to 'respond' to the feedback via a status update and explanation (in a very cool AJAX manner I might add). Knowing the situation at Microsoft, this will probably take some effort but I'm going to try to get them involved in some way or form. Until then, keep those submissions coming and know that it isn't a lost cause. And if you are a Microsoft employee (or Steven Sinofsky), my email is in the profile page.
On a side note, I've received tremendous feedback on the PHP application as well. In case you were wondering, I didn't use any frameworks – all coded from a blank file. I've implemented a number of optimizations in the past few days so it should feel a little snappier than it was 7 days ago. I've also had a number of requests to deploy the same website/application for other Microsoft softwares and even Mac OSX. All of which are under consideration, but I might need some extra incentives. 😉
P.S. If anyone tells you not to edit code live on a production server, tell them they haven't lived life on the edge. Having said that, if you've edited your profile on the Windows UX Taskforce in the past 12 hours and haven't been able to login, that would have been my fault. Please proceed to reset your password. 🙂