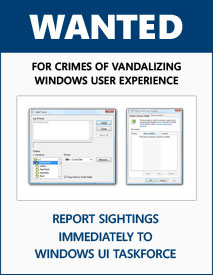 I really opened Pandora's Box last Saturday when I asked the community what Windows user interface quirks they'd like to see fixed or improved in the next version of Windows.
The way I originally imagined it was to go through each of the suggestions by hand and add them to my post along with a pretty screenshot. Needless to say, I got tired about 20 entries in and couldn't imagine doing 140 more. I had to come up with something more manageable.
With PHP in one hand, MySQL in another and some duct tape in my mouth, I've put together a voting-centric community feedback portal over at www.istartedsomething.com/taskforce.
It's not done yet, but it's at a stage where it's complete enough for use and I can add functionality (hopefully) without destroying the database. One key functionality missing for now is the ability to edit the entries you've submitted, so keep that in mind and double check everything.
I'd like to ask everyone who's submitted an entry in the blog post resubmit their own entry using their own account so credit is given where credit is deserved. You are free to use the screenshots I've already published.
I have an exam in the coming days so I want everyone to start playing with it now and when I get back I should have a nice stack of bugs to iron out. Have fun.