I've been looking for a new mobile phone for a while now – from iPhone 3G to Samsung i780 and even the almighty HTC Touch Diamond – but whenever it came the moment to buy, I could never go through with it because of some particular shortcoming. Touch typing on the iPhone, bulky style of the i780 and again touch typing on the Diamond. After a couple days' worth of playing with Palm's recently announced Palm Treo Pro which is not only QWERTY but also stylish, I don't think I'll need to look any further.

First off, some basic specifications:
OS: Windows Mobile 6.1 Professional Edition
Processor: Qualcomm MSM7201 dual-core 400MHz
Memory: 256MB (128MB system memory, 100MB user available)
Display: 2.5″ 320×320 transflective colour TFT flush touchscreen
Radio: HSDPA (3.6mbps)/UMTS (tri)/EDGE/GPRS/GSM (quad)
Wireless: WiFi 802.11b/g (WPA, WPA2, 801.1x) & Bluetooth 2.0 + EDR & Infrared 1.0
GPS: Assisted GPS
Camera: 2.0mp with 8x digital zoom and video capture (no flash)
Expansion: microSDHC
Connection: 3.5mm audio jack (headfone included), MicroUSB 2.0
Battery: Removable 1500mAh lithium-ion battery
Dimensions: 60mm (W) x 114mm (L) x 13.5mm (D) 133 grams
If you're into manuals and such, I've uploaded the User Guide to Scribd so you can have a peek too.
Now if you're looking for some photos of the box and the very elegant unboxing process, you can find some on Engadget but I couldn't wait so I'll start off with the device out of the box and in my anxious little hands – which you can see fits comfortably in.
It is very possible to hold and use the device on one hand but you'd run into a few awkward cramps as you try to navigate with your thumb. With two hands, there's no problems whatsoever.
In terms of size, it's nearly identical to a Zune which in turn is almost like a 80GB iPod Classic. The rounded corners however makes it appear much sleeker and smooth curves much easier and comfortable to hold.
On the left are two buttons, one volume control and another shortcut button which defaults to camera.
On the right is the infrared port and a button on top which turns on the WiFi connection on-demand. Extremely handy since the WiFi turns off automatically when the phone is inactive or in standby.
On the bottom are the miniUSB and audio connectors which sits on an extrusion. Whilst you can't notice it from the front it does ruin the aesthetics a little.
On top a ringer/silence switch and the power button. On back, the camera and the loudspeaker.
A quick note about the speaker, due to the obvious deficient "hole" for the speaker, sounds appear "muffled" as if it was covered up with a hole that is not wider than a grain of rice. Oh wait, it is. Placing the phone down on a table seems to improve the quality considerably.
A quick note about the screen. Like most phones now it is a reflective screen so the colors are vivid at the cost of reflections and glare. At default brightness it is more than usable outside but less so if you tilt it ever so slightly.
Finally, the crown jewels of the device – the QWERTY keyboard. To be honest, all mobile keyboards are small to begin with and this is not much different so it really comes down to feel. Besides the very generous spacebar, most buttons are pretty wide but the gap between keys is not that forgiving. If you pay attention to your fingers it's not hard to type without just a couple mistakes but say if you're trying to touch type you're going to accidentally press quite a few adjacent keys. Of course, my accuracy is improving as I use it.
Whilst there are obvious physical advantages to a QWERTY keyboard than a virtual keyboard, the catch is however there's no "smarts" when it comes to mistakes on a QWERTY keyboard. As far as I know, no QWERTY mobiles autocorrect mistakes. It assumes everything you typed is intentional. I hope at least one vendor realizes this potential adds some software magic to the QWERTY keys too, if they can do it for virtual keys than why not real keys.
A final note about the hardware, it looks pretty at night
Nuff said about hardware, software time. Before I dive into the software I must admit I was a Windows Mobile virgin before using this device. Sure I've seen and played with Windows Mobile around the place but never "owned" a Windows Mobile phone. Needless to say I was aware of the bad perception around WM but dived in anyway.
Here's some screenshots with Palm's "Lumen" theme.
As you can see for the most part this is a very standard Windows Mobile 6.1 experience. If you were to ask me for a single criticism of this device it would be that Palm didn't invest nearly as much into the software experience (as they did hardware).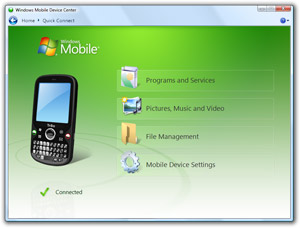 Overall I'm rather positive about Windows Mobile because it is both an opportunity to standardize and customize the mobile platform. By standardization I mean the fact that software developers (and hardware vendors) can write one software that is deployable to thousands of devices without any investment in per-device compatibility – a gain for users. On the other hand WM is also extremely customizable for both users and vendors to make it a truly unique experience. HTC shows how this can be done with their impressive TouchFlo 3D shell. Obviously you can't deny the fact that WM is still plagued with utterly crap user interfaces both native and from third parties. There's no excuse why icons are still aliased.
Besides a few slightly varied screens, Palm missed out on the exciting opportunity to offer some unique software experiences that can't be found on other Windows Mobiles. Hopefully as they become more familiar with WM they'll do something more exciting.
To say Palm didn't do anything wouldn't be fair either. It does come with this "My Treo" app which amongst other things tells you how to use the phone on the phone.
The device's internal memory isn't very large so 100MB of RAM is a precious resource not to be taken for granted. After a fresh boot it idles at a comfortably 36% but rises pretty steeply every application you pile on. If you make friends with the task manager and there's no real problems.
A quite note about the GPS. The device by default has a link to Garmin's webpage which unfortunately at the time of writing does not have a compatible software ready. Alternatively I loaded up Google Maps which worked perfectly fine with the GPS. Takes approximately 5 seconds to lock on to the position. A HTC tool called "QuickGPS" is also included which is designed to speed up the GPS initialization time by prefetching some satellite orbit data, but you have to resync at least every 7 days.

In terms of camera picture quality this is no replacement for a digital camera. Above is a comparison against a dSLR showing incorrect color balance and loss of finer detail but you can still make out most of the details which is perfectly fine for "snaps". In addition, the camera application offers a standard range of settings and controls.
Finally, a note about the resolution. WM 6.1 introduced support for the square resolution of 320×320 which for some reason vendors have quickly adopted. On the plus side it's an advantage in terms of extra vertical space compared to the standard 320×240 resolution but due to its recent adoption some third-party applications can have rendering issues like Skype. This however isn't a road-blocker as there is simply a "gap" and won't inhibit from doing any tasks.
I haven't been able to properly test out battery life yet but I'm predicting about a good 3 days worth in one charge with a couple calls a day and moderate wireless usage.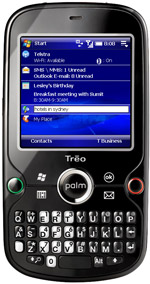 Last but not least, a few words about the phone and data capabilities. The phone quality is pretty stock standard – nothing too impressive but nothing noticeably bad either. I found the phone earpiece rather loud at the lowest volume setting but that's not really an issue. Unfortunately because I'm currently in an area without 3G coverage I haven't been able to test the 3G speeds at all. However on WiFi, it blazes up to a cool 677kbit/s with equivalent coverage to my notebook PC.
In conclusion, this is an impressive touchscreen and QWERTY Windows Mobile phone that has the hardware style of a Lexus but the interior fittings of a Toyota. Obviously when you have really strong competitors like HTC who can skin Windows Mobile like an iPhone, other vendors are going to have a pretty hard time staying competitive but I think Palm is on the right path. For roughly the same recommended retail price as the HTC Touch Diamond, the Treo Pro is a pretty good competitor – there's a lot of value to a QWERTY keyboard but it lacks some next-generation features like capacitive multitouch and an accelerometer – non-essentials but cool to have for futureproofing. I would have no regrets owning this over a Touch Diamond.
I should also give some credit to Palm for trying to be competitive at least in the United States by selling the device directly without network locks. Unfortunately in Australia, Palm has confirmed that it is a Telstra exclusive and network-locked for the time being. (Lucky for me this review unit was unlocked so I could use my Vodafone SIM.) I guess I'm going to have to look for unlocked ones on eBay.