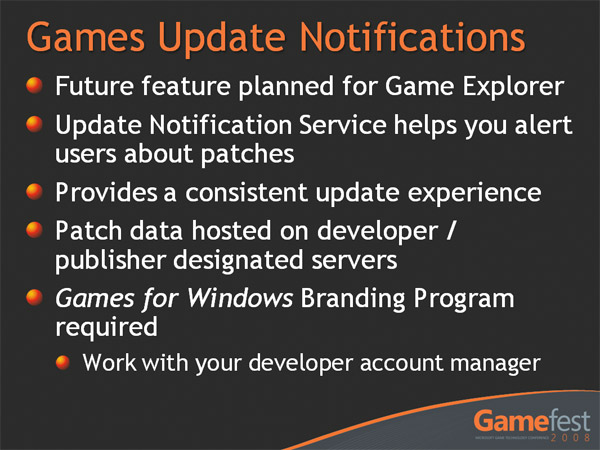 Here's something for the heavy PC gamers among us. It's true, digital distribution stores like Steam and EA Store has taken some of the guesswork out of managing game updates, but there's still a lot of PC games out there where you don't realize it's out-of-date until you discover you're 5 patches behind. Wouldn't it be cool if Windows notified you of game patches like it does with system updates? Windows 7 might just do that.
A presentation about Windows Game Development at Microsoft's annual game technology conference, Gamefest 2008, revealed plans that a games update notification system will be integrated into the "Games Explorer" feature of Windows.
Besides the details in the slide above, from what I can gather in the audio recording the feature will only notify users of game updates and point them to a URL defined by the publisher. It will not automatically download or install them like Windows Updates. There was also a prototype of the interface demoed during the presentation but video recordings are not available.
Personally as a pretty heavy PC gamer, I think this is a necessary and perhaps overdue feature in the operating system. Windows is already a really powerful gaming platform and the Vista "Games Explorer" was a step in the right direction.