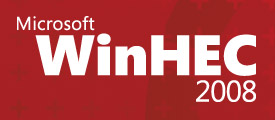 With Microsoft's Professional Developers Conference (PDC) and Windows Hardware Engineering Conference (WinHEC) happening a week apart from each other in late October, there's going to be an extraordinary amount of Windows 7 information communicated in such a short time.
A couple of months ago people began uncovering a bunch of Windows 7 related sessions published to the PDC 2008 agenda, and now more recently some Windows 7 sessions has appeared on the WinHEC 2008 sessions list too. Some interesting ones highlighted.
Connected PCs and Devices

Audio Design for Unified Communications

Building a Communication Device in Windows 7

Building a Windows Certified Electronic Picture Frame

Common Driver Installation Errors and How to Diagnose Them
Design Considerations for Building a Windows Home Server
Discussion: Windows Home Server

PC and Device IDs in Windows 7: What You Need to Know

Plug and Play Basics
Printer Driver Development Tools and Print Verifier

USB Technology Update and Windows Strategy

Windows 7 Device Experience Overview

Windows 7 Logo Program and Design Considerations for Network Infrastructure Devices

Windows Connect Now for Wireless Devices
Windows Logo for Network Media Devices and the Role of DLNA

Windows SideShow: Building Better Devices and PCs

Core Platform & Fundamentals

Distributing Drivers on Windows Update

Leveraging Solid-State Drives in Windows

Making Drivers Available on Windows
Network Power Management Fundamentals
New Developments in the Storage Platform

System Integrated Flash Storage

UEFI Industry Momentum: The AMD Perspective

Windows 7 Power Management Overview

Windows Logo Program Future Strategy

Enterprise Computing

BitLocker: Protecting Portable Data in Windows
Directions for Virtualized I/O in Windows
IPv6: Deploying the Foundation for Tomorrow
Microsoft Data Center Transformation
New Windows Server Logo Requirements and Programs
Server and Domain Isolation: The Next Generation for Network Security
Understanding the Performance Cost of Power Optimizations

Windows Presentation Virtualization

Windows Server Power Management Overview
Windows Virtualization and Cluster Shared Volumes

High Fidelity Graphics and Media

DirectX: Core Graphics for Windows 7

Discussion: Windows Media Center
Display and Monitor Technologies
Perspectives on the Windows TV Tuners Ecosystem

Video Improvements in Windows 7

Windows 7 Logo Program for TV Tuners and Remotes

Working with the Windows 7 Graphics Architecture

Mobile Computing

Connecting Projectors and Using Docking Stations with Windows 7

Multi-touch Designing and Testing for Logo Compliance
Multi-touch Driver Development

Multi-touch in Windows 7 Overview
For the moment, WinHEC 2008 seems to have the leg up with more interesting Windows 7 content than PDC. However I'm sure both will balance out closer to the event when all the sessions have been finalized. Unfortunately for me, I can't attend any of them due to exams *sigh*.