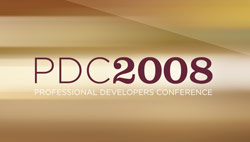 As reported by Neowin, Windows 7 is set to bedazzle at Microsoft's PDC 2008 conference in a couple of weeks with news now that attendees will even receive a pre-beta build of Windows 7. With the fast internet access available at the event, I reckon Microsoft might as well just seed a torrent.
The event website has also been updated today with a couple new Windows 7 sessions to the agenda, of which the following caught my privy eyes:
Windows 7: New Shell User Experience APIs
Nicolas Brun
TBD

Windows 7: New APIs to Find, Visualize, and Organize
David Washington
TBD

Windows 7: New Text and Graphics APIs
Leonardo Blanco
TBD

Windows 7: Design Principles for Windows 7
Samuel Moreau
Together, we can increase customer enthusiasm, satisfaction and loyalty by designing user experiences that are both desirable and harmonious. In this session, we will introduce the Windows User Experience Principles approach to shipping software. Along the way we will share stories and lessons learned along the journey of designing the user model and experience for Windows 7, and leave you with a set of principles that you can apply as you build your applications for Windows.

Windows 7: Integrate with the Windows 7 Desktop Taskbar
Rob Jarrett
This session dives into new APIs that enable integration with the latest Windows desktop features. Learn about new extensibility methods to surface your application's key tasks. Discover how enhancements to the taskbar, Start Menu, thumbnails and their desktop elements provide new ways for you to delight your users. This talk is a must for application developers who wan to provide the best user experience for their applications on Windows 7.

Windows 7: Welcome to the Windows 7 Desktop
Chaitanya Sareen
The Windows desktop is evolving-is your application ready to evolve also? This session sets the stage for exciting enhancements to the taskbar, Start Menu, and other desktop elements.

Windows 7: Deep Dive – What's New with Win32's user32 and comctl32
Raymond Chen
This talk focuses on the lowest level user interface components (user32, comctl32) that appear in almost every Windows application. You'll learn about recent changes and enhancements in these subsystems, and talk extensively about debugging, localization, tools, testing, and shipping. We'll also talk about how Windows 7 changes (such as High DPI) impact user interface code. Get the best tips and techniques that Microsoft development teams use to build great user experiences with these components.
But hide and seek isn't over yet. Apparently there's even some secret Windows 7 sessions only to be revealed after the keynote presentation, which makes scheduling extra fun for attendees I guess). However from at least what's above, it looks like the user-interface is in for some pretty radical enhancements.