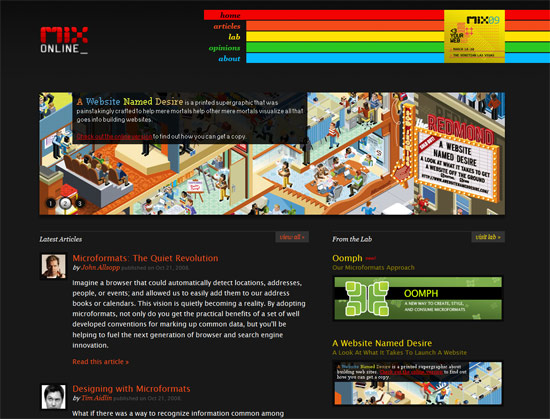 The developer evangelist group at Microsoft – who's behind the popular sites Channel9, On10 and events like PDC – is raising the bar for Microsoft websites from both design and technical perspectives. The new "MIX Online" site has been revamped from the grounds up to be a content portal for web designers and developers.
One of the projects they're launching alongside the site is "Oomph", a very cool Javascript toolkit for displaying microformats to the end-user. Check out a demo here (click the top left icon).
On the surface it's a great looking site – very clean and fun – but what's more interesting is what you can't see. Under the hood the site was built using the new ASP.NET MVC framework. Up until now I've not paid much attention to ASP.NET but this new framework has caught my attention to build great functional sites at the same time not sacrificing the quality of markup. In fact what's pretty amazing is that the "MIX Online" site is validated 100% XHTML 1.0 Strict compliant. That's something worth noting for a Microsoft site.
Finally you can also check out the revamped sister site for the MIX09 event. A little more conservative but still pretty hip.
Update: For those who want to learn about ASP.NET MVC, there's good news. The developers aims to make the "MIX Online" site source code freely available on CodePlex in the future. Keep watching the site for more info.