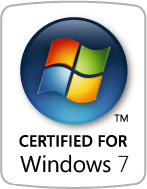 If you intend to develop applications for Windows 7, then take a good look at this. Otherwise if you're in the niche of developing for Windows Me, you can safely ignore. Microsoft's just published the "Technical Requirements for the Windows 7 Software Logo Program for Client Operating Systems" document for the Windows Logo Program for Windows 7.
The short but concise document of only 10 pages describing 5 steps, 3 policies and 10 requirements gives developers a clear guide on how their application can qualify certification for the pre-release version of Windows 7.
First of all, the applicator must
Include business and technical owners for all submissions
Opt in to receive communications from Microsoft about their products
Include a copy and license of the software for compatibility testing purposes
Along with Microsoft agree to a 30-90 day resolution policy for all issues identified in market with logo'd products
Ensure the application adheres to all policies and passes all requirements in this document
The policies which the application should adhere to includes,
Comply with Anti-spyware Coalition Guidelines
Do not modify Windows Resource Protection (WRP) protected resources
Ensure ongoing quality – in short, fix crash reports over time
Finally the application must,
Install and uninstall cleanly
Install to the correct folders by default
Support x64 versions of Windows
Follow User Account Control (UAC) Guidelines
Do not load Services and Drivers in Safe Mode
Digitally Sign Files
Do not prevent an installation or application from launching because of OS version checking
Prevent unnecessary reboots
Support multiuser sessions
Minimize application failures
The document of course is still in preliminary stages and may be changed over time. Microsoft however does have a survey up which allows people to give feedback on. Remember, if don't certify, the terrorists win.