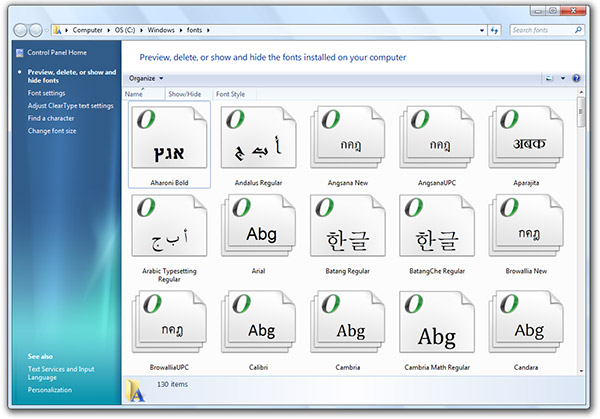 Besides Windows Classic, another popular question when a new version of Windows is announced is whether or not the "Add Fonts" dialog is there. In fact this is such a quirk it's the first and one of the top problems on Aero Taskforce. Well, I'm both glad and proud to say that the "Add Fonts" dialog is no longer there. In addition, there are also a number of font management improvements in Windows 7 worth mentioning.
As you see from above, the fonts folder now actually previews font live from the thumbnails. Each font's thumbnail has 3 characters of it's alphabet displayed on the icon. This is a great way to quickly glance through the styles of fonts available without resorting to furiously scrolling through Photoshop.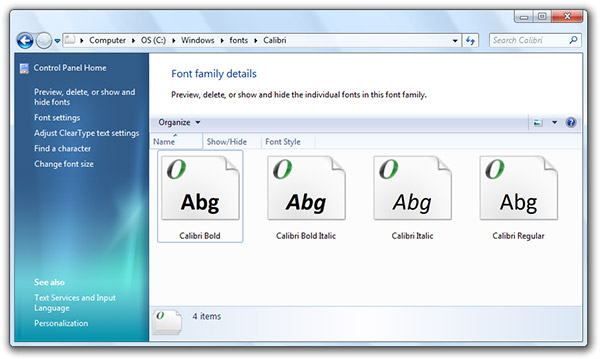 Fonts in a combined set will also no longer take up five different slots, instead, appearing as one font (for example Calibri) which you can double click to dive into.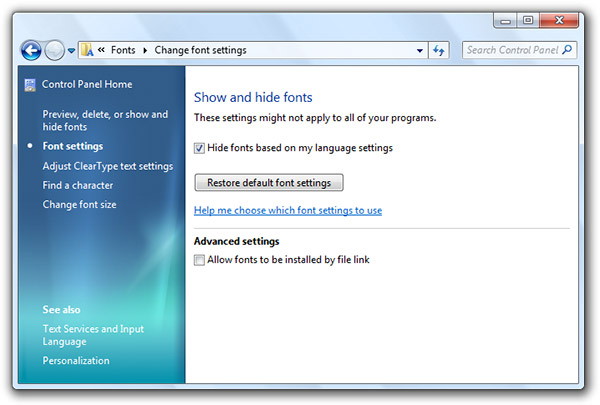 Windows 7 is also intelligent about toggling off and on fonts when required. By "hiding" fonts, they are still technically installed in your OS but not enabled to applications, this reduces the number of fonts to scroll through and also memory. First, Windows 7 will automatically hide fonts based on regional settings, but it will also allow you to show and hide them manually.
There's also a new font in the pre-beta build of Windows 7. It's called Gabriola and it's a beautiful script font with support for a wide variety of advanced OpenType functionalities.
Technologically, with the introduction of DirectWrite there is also better support for text rendering in terms of non-pixel-bound fonts and YDirection antialiasing.