[flv:win7panning.mp4 640 410]
If you're particularly fond of the kinetic scrolling functionality that is implemented on the iPhone and Zune 3.0, then you have to get your hands dirty on Windows 7 since kinetic scrolling is now operating-system wide. The feature, officially implemented as "Panning", was one of the many secrets unearthed by Rafael Rivera and can only be used if touch capability is detected.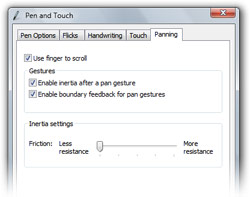 The above demo was recorded on a Toshiba Portege M750 Tablet PC which is a tablet/touch convertible. A more in-depth review on that soon.
What this feature does (in build 6801) is allow you to use your fingers to "pan" or scroll any element with a scrollbar. The obvious examples include the start menu, Notepad and the help files. At the time of writing, browser windows including both IE and Firefox are not compatible which I assume is because the browsers implement their own scrolling behavior (ie. smoothscroll). And just like most other kinetic scrolling implementations, if you reach the barriers abruptly it'll move the entire window as if you were pulling on it. There is also some inertia so content keeps scrolling if you swipe your finger.
If you're looking to buy a notebook in the not too distant future to support Windows 7, bear in mind some of the cool touch and tablet functionality that will be enabled and decide if you want to touch your trackpad or your screen.
Update: Yes, I did use Aero Shake in the demo, very cool indeed.