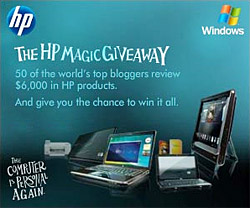 Starting from today, three of the fifty participating blogs will be accepting entries for the jaw-dropping HP and Microsoft $6000 Magic Giveaway contest. This is not your average mousepad and a sticker giveaway, the prizepool includes a multi-touch PC, two laptops, a netbook, a printer, a media server and software. Suffice to say if you win this, it will make your Christmas and hopefully others around you too.
For the best chances of winning, make sure you visit each of the fifty blogs during their 7-day contest period. To make it easy for you to follow along, here are dates of all the blogs in fancy Google Calendar form and downloadable ICS format.
The competition on this site starts on Tuesday, December 2nd.