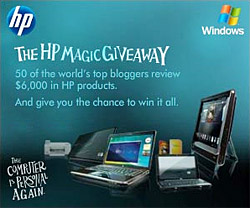 Today, the HP Magic Giveaway is coming to this very corner of the web. Your chance to win $6000 of the best (sealed and unsmudged) geek toys for this holiday seasons from HP and Microsoft in just a couple of keystrokes and mouse clicks away. For Tablet PC users it's just a few pen strokes and taps away.
Head over to the istartedsomething.com HP Magic Giveaway contest minisite for the prize package and entry information.
In keeping with the holiday spirit, where no one really has time or effort to do anything, it can't get any easier than a simple sweepstake. Just register your name and email. But there's a twist. Users of the Windows Vista (and newer) operating system are given the opportunity to claim a bonus entry. If you don't use Vista (or tried Vista), might be a good time to head over to a friend's house and check it out.
The competition runs for 7 days until Tuesday, 9th of December 2008. If the technology works, a winner will be drawn later that day. Good luck.