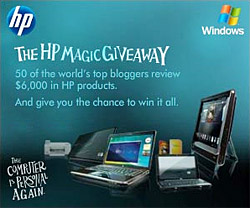 Another year is coming to a close and one lucky person is going to score the ultimate holiday present. Seven days ago this website launched one of the 50 HP Magic Giveaway contests which has attracted over 4000 entries. Besides the guy who decided to spam 1123 entries with sequentially numbered Yahoo emails, the odds are pretty good considering the prize pool value. Even better if you used Windows Vista.
Without a further ado, the winner of the contest is Mark Stephens (@gmail.com). Everyone else wins a novelty thumbs up.
Thanks all for participating and special thanks to HP and Microsoft for organizing such a awesome competition at this time of year. Remember, there are still many chances to win at some of the other 50 blogs who are still running or yet to run their contests. Happy holidays.