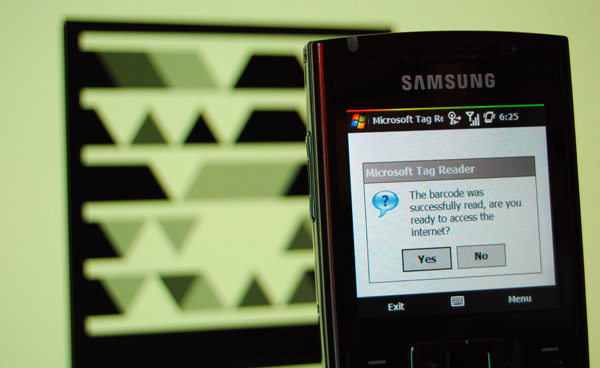 Microsoft Tags, technically known as High Capacity Color Barcodes, might not be so worthless in print after all. Following yesterday's announcement at CES 2009, a lot of mostly criticism has arisen over Microsoft's next-generation 2D barcodes, one of which was its dependency on color. However, my experiments prove it to be not as dependent as you think.

On the surface, what appears to give HCCB's its technical superiority is color, as the name might suggest. Using different colors, you could store 1 byte of data in less than half the space it would have taken a black-and-white matrix code. But, the secret is not color, at least not in the technical sense.
You see (pun), color is a combination of hue, saturation and brightness. What I've found is that the data is not stored in hue or saturation, but brightness alone. Having said that, there is a secondary dependency on color for the technology to work. If that doesn't make sense, have a look at the following example.
Here is a simple "Hello world" tag I've created. On the right, I used Photoshop's black and white adjustments (settings R:100,Y:100,G:0,C:33,B:0,M:66) to strip out all the hue and saturation information to be left with an image purely composed by differences in brightness.

Now if you took your Tag Reader and tried to capture the black-and-white tag, it won't work. I don't know why, but it just wouldn't. What comes next was stumbled upon by my luck. If you focus your camera on something else in the room, then back to the tag as quickly as possible, it will actually work. (If it doesn't for you, you're just going to have to trust me.)
The phenomenon stumbled me at first but soon became rather obvious. Every camera tries to take the perfect photo by automatically adjusting for color balance – the setting which either makes photos look warm or cool. By focusing the camera away, it changes the color balance to suit that area, and if you shift back the camera back really fast, it won't have time to readjust the color balance and so it inaccurately tints the otherwise black-and-white tag with either a orange or blue hue.
With that in mind, it means that all you need is a single hue of color (monochrome) to make it work. Try these. It should work every time.

Sure, it still means that HCCBs don't work in a pure black-and-white situation like a newspaper but I don't think in this day and age single-color printing is too much to ask for.
Update: Even subtle gradients and photo-based backgrounds will work too.