[flv:microsofttag.flv 584 328]
It just wouldn't be right if Microsoft didn't have its own barcode technology too, which is why today Microsoft Tag (Beta) was announced at CES 2009. Much like other 2D barcode technologies including the popular but underwhelming QR Code, Microsoft Tag allows data to be stored in a graphical bitmap using shapes and colors. But with a twist.
If you were to assume Microsoft Tag is just a clone of QR Code, you'd be wrong. In fact you should be ashamed of yourself for even thinking about it. Microsoft Tag is based on a whole new technology called High Capacity Color Barcodes (HCCBs), which was invented in-house by Microsoft Research. The difference is not using square pixels, but triangle shapes and colors to store data. The following diagrams show off its advantages.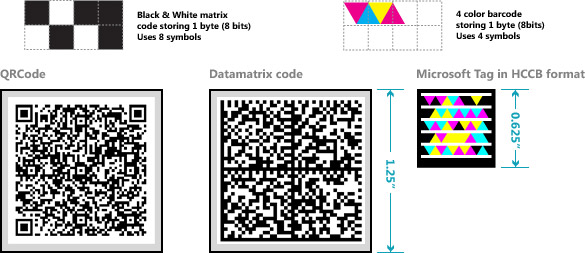 Unlike other tag technologies too, the Microsoft Tags don't actually store the information. You see, all it stores is a unique ID which it then sends to Microsoft's servers. This way, you can include much more information, and more variety of information, then if it was just on the tag itself. A nice side-effect of this is also the ability for publishers to gather reporting data on how many times it was seen.
To read these tags, Microsoft is making available today a downloadable application to a handful of mobile platforms including Windows Mobile, J2ME, iPhone, Blackberry, and Symbian S60 phones. A camera and internet connection is obviously required. To get the application, point your phone's browser to http://gettag.mobi.
I've only played with Microsoft Tag for a few minutes on my Windows Mobile phone, but its a noticeably better experience than I've had with other 2D barcodes in the past. For example you can read it from a very far distance, from a very side angle and even if it's partially blocked.
In addition, it wouldn't just be a Microsoft platform without developer tools. That is why starting today the "tag maker" service is also available so anyone can create these tags. For the moment this is a free service, but out of beta, one could potentially see this is where Microsoft plans to make a buck.
I created a few tags of my own so you can try it out.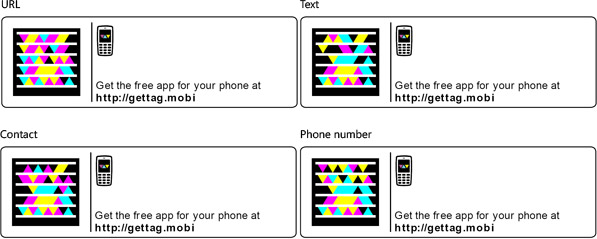 Update: Microsoft Tags work in monochrome too, unofficially.