[flv:msretail.flv 600 330]
What would you do with 20,000 square foot (approx. 1,900 square meter) of real-estate? Would you make the most of it and build a store to sell something? Or would you build a fake store that looks like a real store, functions like a real store, but isn't actually a store? I'll give you some time to think about it while I tell you about what Microsoft did.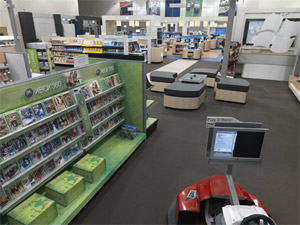 Rumors of this mystical place has been floating around in the past year or so but just recently Microsoft has published extensive video and photos from the Microsoft Retail Experience Center as part of their vision for a technology-enabled retail experience. It is said the facility is a fully-functional store from real checkouts to a real loading dock, all but lacking one but important thing, real customers.
It's great Microsoft has the skill to design, build and operate a "real" Microsoft store – which is what everyone has been asking for and doesn't look half bad I must admit – but it's a bit of a bummer there's no apparent way for anyone in the general public to shop there. There's no phone number, no address and even the emergency exits are painted with a faux-background representing a car-park.
I have just one simple question, if this store is as functional as Microsoft tout it to be, then why not build a car-park, some real doors and just call it "open for business"?
Until then, enjoy the pictures and this virtual Photosynth tour.