Desktop themes are making a comeback in Windows 7 with many new styling options to make sure it's easy to create, mix and share your unique themes. And many there are already, including Paul Thurrott's collection and various OSX inspired theme packs.
One of the new tricks to make your desktop "pop" (not literally) is the ability to run a slideshow as your wallpaper. Many already know you can select a couple of pictures to cycle through, or even a whole directory of (cute cat) photos, but did you know you can also exploit the power of RSS feeds?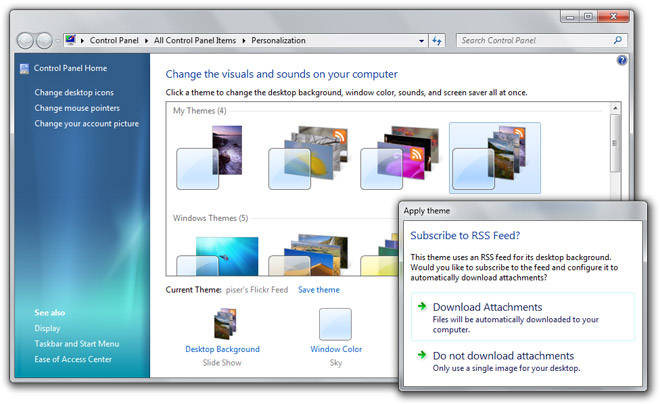 Part of the new theme file specifications in Windows 7 (and first uncovered by Rafael Rivera) is the ability to specify a RSS feed as the source of slideshow images. To put this to the test, I created three themes that source images from the RSS feeds of various Flickr users' who make available the original high-resolution photos to the public. If you have a copy of Windows 7 handy, feel free to download these and play along.
The first time you double click to install the theme files you might find yourself enjoying nothing more than the default "beta fish" wallpaper, this is due to a number of bugs related to this feature. First of all, this feature utilizes the Windows RSS Platform which automatically refreshes and download feed enclosures in the background. Because this is a background process, it will take considerable time to download the high-resolution photos within the feed. But once the photos are downloaded, the theme does not automatically refresh to queue the new photos in the slideshow. A logout/login should be sufficient, but more simply you could open the theme control panel and toggle between two themes to force a manual refresh. I hope both issues are addressed in the final build for a more intuitive experience.
Another issue in the beta is the lack of means within the themes control panel to specify a feed URL, so you will have to resort to a text editor to get the job done. If you fancy some RSS feeds of your own, add the following snippet to your .theme file.
[Slideshow]
Interval=1800000
Shuffle=1
RssFeed=http://www.fabrikam.com/Feed
Images must be an enclosure item in the feed for the slideshow to work. Unfortunately this means many feeds (such as the Nasa Astronomy Picture of the Day) are ineligible.
Whilst I can't credit this functionality to Microsoft (Mac OS X has had both slideshow and RSS support for some time), it's a very powerful idea that's still in its infancy stages. Realizing RSS feeds are not limited to just photos but perhaps dynamically generated images with information visualizations delivered fresh to your desktop every day sparks some interesting concepts. A desktop wallpaper that changes with the weather maybe?
Tip: If you would like to increase the frequency the feed is refreshed, by default it is every day, you can manage your Windows RSS subscriptions inside the "Feeds" panel of Internet Explorer. Right click on the appropriate Flickr feed and click settings to change the update interval.
Update: In the spirit of extending this functionality to more uses than just displaying photos, Jamie Thomson uses Windows Live FrameIt and some BBC feeds to generate a dynamic wallpaper with weather and news information. Even though it's a bit ugly, it demonstrates a lot of potential.