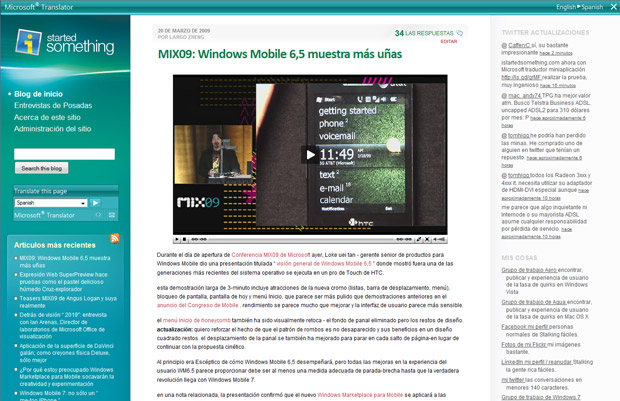 In the Microsoft "2019" vision video, you might recall the first scene where two kids are talking to each other through a digital wall and their speech is instantly translated from English to Hindi and vice versa. That language-neutral vision is now nearly a reality on the web thanks to the Microsoft Translator Widget.
In true Web 2.0 style, the service announced last week at Microsoft's MIX09 conference is in a limited invite-only technology preview. I've been lucky enough to get an early invite-code to try out on this blog, and I love it. It's as easy to implement as embedding a YouTube video, and the end-user experience is fast, convenient and without disruption – the user stays on the page.
There is however a couple bugs related to different browsers including IE8 (use compatibility mode) and Safari 4, but they're definitely working on it. Their blog also indicates they're still tweaking the design, adding features and progressively adding languages.
I've been told users who've registered their interest on the Microsoft Translator Widget website should be getting their invite codes this week. Can't wait to see this on many more sites.