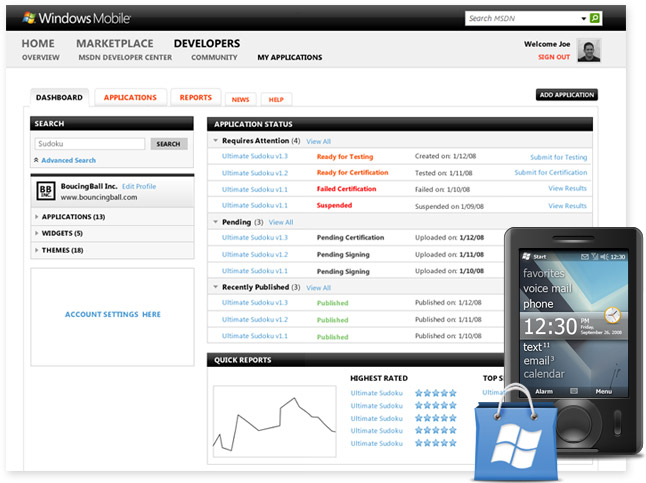 I'm beginning to question if Microsoft's motivation to open a centralized app store for Windows Mobile is more so for profit rather than the growth of its application platform. What I expected was a distribution platform that welcomes developers with open doors, warm cookies and fresh milk, not an exclusive downtown club with former boxers for bouncers and overcharges for food and beverages.
Following the confirmation that developers submitting free applications are not given exceptions to the cost of submission, I've also received word from Microsoft "application updates will count as new application submissions, and therefore will count towards the first 5 free submissions, or will cost $99 each after the that". That is, every new binary is treated as a new application.
I understand that in the perspective of a reviewer who has to qualify these applications, every new binary could be an entire rewrite of the application, but then on the other hand it could just be a simple typo correction. An expensive typo at that.
What this means to developers is that if they submit one application to the marketplace, they have only 4 opportunities to update that application a year. Whilst most commercial applications do not update as frequently as 4 times per year, much of the gem that's in the iPhone App Store and on hobbyist WM development sites like XDA-developers are casual projects and receive a flood of updates during its early days as bugs are squashed and polish added.
What both of these requirements (charging for free applications and application updates) on the Windows Marketplace for Mobile imply to me is that Microsoft is more concerned about recouping (and/or profiting from) the cost of its submission approval process rather than supporting free applications and regularly updated applications on its mobile platform.
On a lighter note, imagine if the tables were flipped, instead, Microsoft paid developers to improve their applications. Wouldn't that be nice.
Update: I've also learnt that Microsoft will charge developers for resubmitting applications if their prior submissions were rejected.
Update 2: Microsoft has told CNET.com that application updates within 7-days of last certification are considered free. Weird they would leave that detail out when they were answering my question, but this is a better model which allows for some room for errors.
Update 3: Microsoft has since changed the Marketplace pricing structure and application updates are now free. Yay.