[flv:wmmarketplace.f4v 640 360]
Building up to the Microsoft's Windows Mobile 6.5-centric keynote at the International CTIA Wireless 2009 event on Thursday April 2, a new promotional video has been released about the much-anticipated Windows Marketplace for Mobile – the app store Microsoft don't want to call an "app store".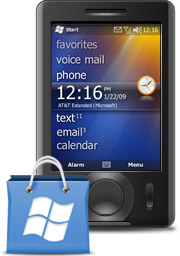 This is an interesting video because it is the first time the actual store experience has been shown, whereas previous announcements have just acknowledged it exists. The video demonstrates a simple scrolling list to browse applications, a detailed view for applications, its screenshots and (questionable) user reviews (with excessive l33t-speak). A user can pay for their purchases from an account-tied credit card straight from the device and it downloads OTA. In addition to the general store, there is an operator-specific store if they wish to distribute operator-exclusive applications. The website can also be used to browse and purchase applications which are then automatically installed on your device.
For some reason, the video also promotes a full self-refund service for the applications you buy. I find it weird it was featured in this otherwise video at all, as if it was subtly acknowledging you'd want to refund many of your purchases.
On a related note, it's also nice to see the Windows Mobile team is actively responding to feedback and even going as far as changing their app store developer program for the better.