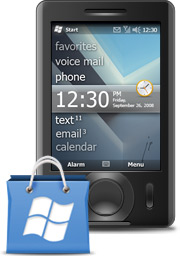 There's no arguing that third-party applications is what makes smartphones great, after all, there's only so much a first-party can or should do.
The state of the applications ecosystem on Windows Mobile today is disorganized and unprofessional, so the news couldn't come sooner Microsoft had finally put together a centralized app store, the Windows Marketplace for Mobile. However, a small detail in the developer program has me worried developers will be reluctant or can't afford to release cool and interesting applications.
The particular detail in the developer program I want to highlight is the cost to submit an application to the marketplace. Whilst both Microsoft and Apple asks (at least) $99 to join the developer program, Apple allows unlimited application submissions whereas Microsoft gives developers only five free submissions per year and $99 per submission after that.
Up until now, I optimistically assumed this does not apply to free applications but today, Microsoft also confirmed to me that free applications too will cost you a submission token. So if you were to submit 10 free applications a year, that would cost you $495. A lousy return on investment if you ask me.
I don't think is fair to developers at all. If you put yourself in the shoes of a developer, ignoring what smells you may come across, instead of dreaming up experimental but perhaps not fully-refined applications which could become a very profitable application (for both the developer and Microsoft) down the road, they're left with a burden to make sure every submission is worth the cost of submission – a token or $99.
On one hand this could be a good thing, putting an artificial barrier-to-entry for fart-noise and other not-so-practical applications, but on the other, there is the possibility of a killer application in the making never seeing the light of day, and that's a worth a couple useless soundboard applications in my books.
Obviously developers are still free to distribute any applications on their own from their own website, but that contradicts the whole reason why there needs to be a marketplace in the first place. I believe Microsoft needs to change the development program so free applications do not require a submission token, so a developer could submit as many free applications as they wish. Anyone agree?