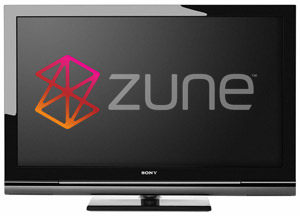 The Zune, which has sold over (a comparatively tiny) 5 million music tracks, music videos and television episodes, is looking to make the leap from your pocket to your living room according to a very forthcoming Microsoft job advertisement. It reads,
Help shape the future of entertainment in the living room. The Zune team is looking for a qualified software development engineer to help deliver great digital entertainment features into the living room, including on demand music and video.

Primary responsibilities include development of innovative user interfaces for delivering a rich, deep interactive media consumption experience in a living room environment. Experience with online services API development is a must, product will provide a rich online media experience delivering music and video from the cloud. A passion for UX and digital media is a must.
This job posting dated just a couple days ago follows CNET's report from a month ago that the Zune group was restructured into two separate divisions – hardware and software – allowing a part of the Zune team to focus on potentially porting the Zune to other "tuners". This obviously is indication of one such device or software on an existing device such as the XBOX360 for the living room. An Apple TV-like device maybe?