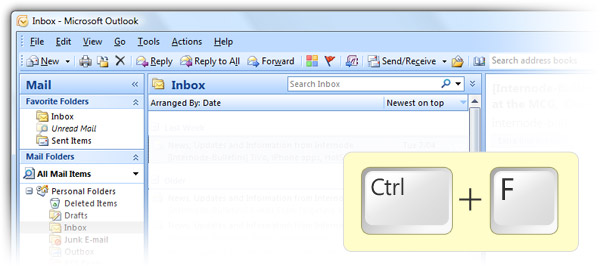 As an exclusive user of webmail, my experiences with Office Outlook has been limited to the once per quarterly checkup of my ISP-provided email. For this reason, I've been entirely oblivious to a small legacy problem that has apparently been frustrating users for much of the past couple years – the problem of the keyboard shortcut CTRL+F and its unexpected behavior to forward email rather than search the inbox or inside a particular message.
To be fair to the developers of Outlook, this is not a new problem introduced with any recent release but a legacy dating back to the early 1990s. As Jensen Harris blogged during the development of Office 2007, "CTRL+F" is an issue that falls under the 50/50 rule – that is 50% of users want or a expect a feature to behave a certain way, and the other 50% of a different behavior.
Whilst I'm not sure if the 50/50 proportions are still correct for this day and age, but how this rule plays out for Outlook is that a large portion of users expect CTRL+F to initiate a find or search behavior, like it does on the majority of English-based PC applications today (apparently keyboard shortcuts are language-sensitive), whilst a certain portion have developed a strong association with CTRL+F to forward email that changing it could confuse or upset them.
Admittedly it was insightful for Jensen to talk about the issue, however Outlook 2007 did nothing to address it.
Now, some new blood who just joined the Outlook team finally wants to take the noble action to change the behavior of CTRL+F in Outlook 2010 to "Find". Surprisingly, the Outlook team is apparently open to the idea but will only accept it if system quality metrics (SQM) data (ex. data sent back to Microsoft about your usage behavior) supports it. Statistics as everyone probably knows by now can be manipulated in many ways. How can SQM data in this scenario prove the need for change, or otherwise, disprove doing nothing?
On one hand, gathering the SQM data itself raises a few interesting issues, for example, looking at how many people click CTRL+F, then escape, and then the search box might provide evidence of people intending to use CTRL+F to search, but this is not a perfect representation of the search experience in Outlook.
On the other hand, I want to highlight the much broader issue of design by engineers where coincidentally the highly notable designer, Douglas Bowman, left Google for this very reason. You might be thinking what is design by engineers and why is it an issue? Douglas put it best,
Without a person at (or near) the helm who thoroughly understands the principles and elements of Design, a company eventually runs out of reasons for design decisions. With every new design decision, critics cry foul. Without conviction, doubt creeps in. Instincts fail. "Is this the right move?" When a company is filled with engineers, it turns to engineering to solve problems. Reduce each decision to a simple logic problem. Remove all subjectivity and just look at the data. Data in your favor? Ok, launch it. Data shows negative effects? Back to the drawing board. And that data eventually becomes a crutch for every decision, paralyzing the company and preventing it from making any daring design decisions.

Yes, it's true that a team at Google couldn't decide between two blues, so they're testing 41 shades between each blue to see which one performs better. I had a recent debate over whether a border should be 3, 4 or 5 pixels wide, and was asked to prove my case. I can't operate in an environment like that. I've grown tired of debating such minuscule design decisions. There are more exciting design problems in this world to tackle.
Although I don't know with full certainty this is Microsoft following Google, or in fact Google turning into Microsoft, this Outlook example is the only recent one I've heard of and also an example where I have a strong belief the data will fail to support what I believe should be changed for the better in the long-term.
I'd love to hear everyone else's opinion on what CTRL+F in Outlook 2010 should do and also how you feel about design by engineers.
Update: I feel I should clarify my opinion on the matter. I am inclined to believe that exclusively design by engineers, like it is used in this scenario where a decision purely rests on whether SQM data supports it or not, is not good for innovation. Not to undermine the usefulness of data – it can help to evaluate a decision, but because it reflects the past and present, it does not entirely represent how users will react to a change or new feature.
Like the what Douglas points out in Google, If a company like Microsoft falls into the habit of exclusively design by engineers, then it will always make the safest decision which will satisfy the large majority of current users, but won't help the company attract new customers or do radically new things, and that may have long-term consequences. Will Office in 5 years be the only application on Windows that does not follow the standard CTRL+F behavior?