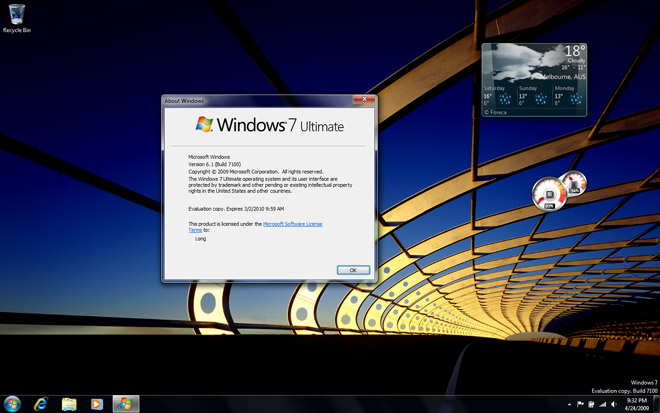 If you're like me and watched from a distance leaked builds of Windows 7 fly past like water balloons in a water balloon fight, then the time to join the fun is now. The highly anticipated release candidate (RC) build of Windows 7 has been leaked and its authenticity is entirely undisputed. First looks reveal nothing significantly new or different, but if you've been wanting to get a vibe of how far Windows 7 has come since the public beta, especially performance, this is the build to get.
For those of you who want to play along at home, pay your favorite "content hub" a visit. The full build string is "7100.0.090421-1700" and the x86 (32-bit) ISO coming in at a easily manageable 2.35GB (2,530,975,744 bytes). Furthermore to check if your file has been tampered with, you can easily compare the file hash of your x86 (32-bit) ISO file with HashTab against the following.
CRC32: E8A1C394
MD5: 8867C13330F56A93944BCD46DCD73590
SHA-1: 7D1F486CA569EFFFFB719CFB48355BB7BF499712
Tip: Those who have a portable USB hard drive can follow my simple guide to making a super-handy bootable USB Windows 7 install drive. With this, I installed Windows 7 RC in around 10 minutes.
Update: If you're not feeling that adventurous, prepare to grab this RC build on May 5 when it'll be publically available. Or if you're lucky enough to have a MSDN/TechNet subscription, from April 30. In the meantime you can get yourself a legitimate Windows 7 Beta CD-Key (which is valid for RC) from the Microsoft website if you don't have one already.