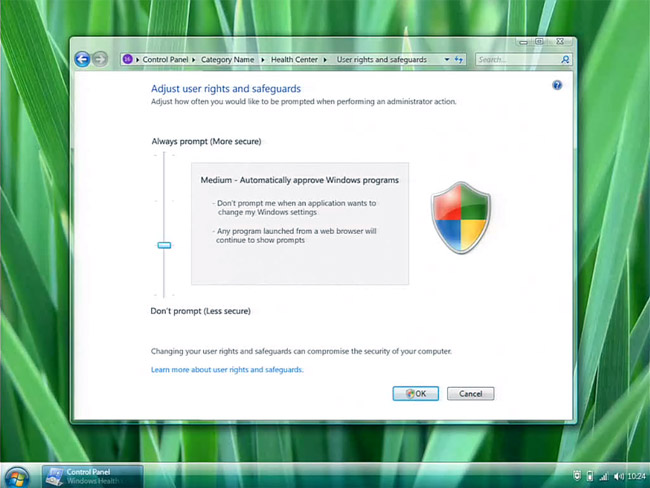 I'm glad at least someone is paying attention to the French. A couple of days ago Pinnula.fr noticed some interesting screenshots from a presentation at the Microsoft France training event "TechDays 09" of what appeared to be a different user-interface for Windows 7. However contrary to his speculation that this was to be the speculated theme refresh under wraps for Windows 7, it is in fact a screenshot of an old "superbar" prototype.
In this version of the superbar (presumably by default) labels are still enabled. Unlike the labels in the version of Windows 7 today which just feature an application window's title in a single line, it appears to be a multi-line label separating the name of the application and a subtitle indicating the contents of the current window.
This is an interesting concept because still to this day, the label that appears in the taskbar is a duplicate of the title of the Window it represents, not the application. For example, your Windows Live Messenger windows are labeled by the username of your conversations, not "Windows Live Messenger".
Obviously Microsoft has since dropped this idea, but it's worth noting this may have provided an interesting method for applications to provide always-visible short snippets of information on the taskbar. For example, a Twitter application could have indicated in the subtitle "4 unread, 3 replies", and Outlook "3 unread messages". Of course, the cost of this idea would adds significant size to the taskbar buttons if they are to be wide enough to relay any useful information.
On a similar topic, personally I have found in Windows 7 the default view of the superbar very difficult to adjust to (large icons, no labels). How is everyone else finding the superbar?