The Windows 7 blog today showed off a collection of multitouch-exclusive softwares and games collectively known as the "Microsoft Touch Pack for Windows 7". As many eager Windows 7 users with multitouch-enabled PCs (ex. Dell Latitude XT2 and HP TouchSmart, etc.) may have noticed, you can't actually download or install these today. You might be wondering, why would they announce something so interesting and not release it? Or even more so why not bundle the cool games into Windows 7? I think that's because this is actually not aimed at end users, but a clever plan to compel OEMs to certify their touch Windows PCs.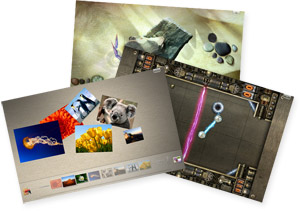 For most people, a platform is only as good as its applications. Therefore to sell a platform, you need highly captivating demos. Up and until very much today, Windows 7's (multi)touch capabilities were a bullet point for developers. It's APIs offer developers a slew of touch gestures to implement into their applications, but relatively few built-in advantages for end-users. The taskbar buttons were bigger and you could flick some photos around, hardly captivating selling points in a retail environment if you could imagine.
Of course, some vendors took it upon themselves to come up with value-added touch functionality for their touch-enabled PCs, like HP's TouchSmart software for their TouchSmart PCs (bonus points for consistency), but many and probably the large majority don't provide any extras out of the box. This is where the Touch Pack for Windows 7 comes in.
Now Microsoft's done the hard work to make multitouch look cool and practical on Windows 7 PCs and instilled the desire to have them in users, OEMs aren't just going to get them for nothing, they're going to have to work for it.
As mentioned in the blog post, Microsoft is only going to provide these applications to OEMs who certify their hardware under the Windows Touch logo program, a new quality-assurance program exclusively for touch-enabled Windows PCs. The Engineering 7 blog touched on the testing procedures a couple of months ago, and more detail is available on MSDN and WHDC too. Basically it's a pretty rigorous process to ensure a quality touch experience with a set of standardized tests.
As someone who's fiddled with many tablet and touch Windows PCs, I can see why Microsoft is being more strict on the touch experience. It is everything but consistent – including but not limited to accuracy, sensitivity and even the coating of the display. Frankly speaking, there might not be that much substance to the Touch Pack, but it's a good leverage for Microsoft to enforce a minimum quality bar for touch-enabled Windows PCs going forward. Otherwise in the words of a popular meme, "it's a trap!"