It's no secret I have an icon fetish, and it makes me smile every time a new high-resolution device icon appears in Windows 7's "Devices and Printers". It wasn't very long ago that most devices appeared in Windows with indistinguishable device descriptions and icons, but with Windows 7, devices not only work well, but look great.
A new feature in Windows 7 allows the operating system to display unique device icons alongwith detailed product information it downloads from the Microsoft-hosted device metadata web service.
If you're wondering where Windows 7 keeps these high-resolution photorealistic icons it downloads from the device metadata service, then you'd be glad to know you can easily find them as ICOs under the "%LOCALAPPDATA%\Microsoft\Device Metadata\dmrccache\" directory. Inside the folder appropriate to your region (ex. en-US), there should be individual folders with GUIDs for each of the devices with metadata associated with it. The icon resides in the "DeviceInformation" folder of each device.
As it turns out, the GUIDs for each device can also be used to download the metadata package directly from Microsoft's Metadata servers. For example, the metadata package for the Sandisk Micro flash drive is available here. Rename the file to a .CAB extension and you can simply extract the resources.
Some of you may have also noticed that out-of-the-box, Windows 7 supports a broad gamut of devices with generic device icons. For this, I stumbled across the "System32\DDORes.dll" resource file which appears to be the goldmine of device icons. Here's a collection of all the icons I extracted with Anolis Resourcer.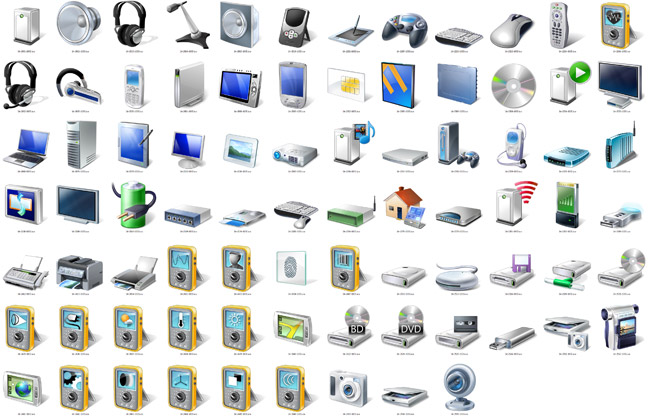 By looking at the icons alone, Windows 7 natively distinguishes at least an 81 different types of devices. Of particular note are the 14 different types of sensors, as indicated by the icons that resemble a multimeter, that Windows 7 seems to support.
As with any hardware-related feature in Windows, it's ultimately up to the hardware vendors to take advantage of them, however they don't always have the best track record for fast adoption. Along with Device Stage, I think this is a great opportunity for hardware vendors to help distinguish their premium products from cheap generic counterparts with very little investment.
Share what devices (and their GUIDs) you have that's got some cool icons show up!