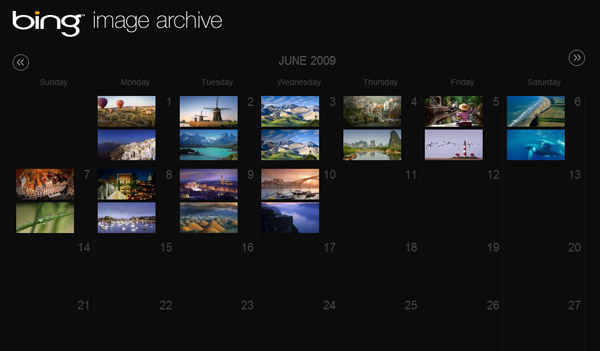 Whilst NASA's Astronomy Picture of the Day (APOD) sets the bar pretty high, Bing.com's daily photograph backgrounds are also worth taking a look. Of course not everyone uses or want to use Bing everyday, easily missing out on some amazing pictures. Granted there is a little navigator on the site giving you past 7 days' photos, but it's clumsy and time-consuming. Therefore without further ado, I present, the Bing Image Archive.
Here, you can find all background images from Bing presented in a simple calendar format, appropriate to the day which the image was originally displayed on. As you might have noticed, there are two photos per day, one of which is for United States and the other for everywhere else. Notably, the US image comes with richer metadata and hotspots which I've also transferred from the site to give you a better understanding behind the image.
The site also allows you to send permalinks of images by copying the URL, for example. Enjoy.