[flv:laptop-nova100.mp4 620 350]
The Zune team needs to learn a lesson from the Windows team. Microsoft's latest campaign, "Laptop Hunters" has made the 12,000 kilometers (7,500 miles) trip to the land down under and is now running an exclusive campaign for Australians, but with a twist.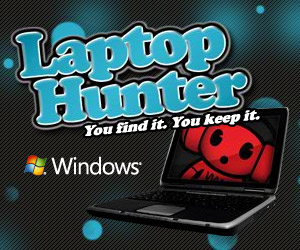 Unlike the US campaign where you sit back and watch other people score cool laptops for free, Microsoft Australia in collaboration with Nova radio stations in Melbourne, Sydney and Brisbane are giving listeners a chance to score a Windows laptop a day.
Starting today in Melbourne (Nova 100) and Sydney (Nova 969) until Friday 12 June, and next week in Brisbane (Nova 1069) from 16 June to 20 June, clues will be provided on the breakfast shows from 8:30am and the station website to indicate where the "laptop hunter" is hiding (and presumably frozen in the cold winter breeze) in the city. Find them, tell them "I can buy great a laptop for under $1300" and they'll take you shopping. If you do find a laptop for under $1300 (US$1000), the laptop is yours.
Videos of the winners of today's challenge in Melbourne and Sydney will be posted later today, and I'll embed them here when they're available. Sounds like a lot of fun.
[flv:laptop-melbourne.flv 620 350]
Update: The first day winners are David Kerr in Melbourne and Matt McGlinn in Sydney. They picked up a Dell Studio 15 2.0GHz, 3GB RAM, 250GB HD, Windows Vista Home Premium for $1,299 and Asus X82Q 2GB RAM RA, 250GB HD, 2.2 GHz, Windows Vista Home Premium for $1,199 ($101 bonus cash) respectively.