It might have been the day the Chrome OS is finally announced, but according to Robert Scoble, this was actually a timely stunt by Google in an attempt to steal some of the spotlight before what he claims to be a "big announcement" coming from Microsoft on Monday. Apparently he has seen and shot videos of it, but is not allowed to talk about. Let the speculation begin.
As it turns out, next Monday is not the ordinary first day of the week for Microsoft. On that day, Microsoft is kicking off it's Worldwide Partner Conference 2009 in New Orleans and from just looking at the keynotes list, is nothing to be sneezed at. Long story short, it's basically a who's who list of Microsoft executives. However, this doesn't actually help narrow down what the big announcement might be since almost every Microsoft division is represented extensively.
Potential announcements already on people's minds include the announcement and subsequent availability of Windows 7 RTM code and pricing and licensing plans for Windows Azure, but this does not appear to be what Scoble is referring to.

Scoble made several comments in his Friendfeed post that provide clues to what the announcement is about. The first made a reference to "Microsoft's 14 billion dollar business". After tracking down Microsoft's last quarterly financial results, they indeed have a $14 billion dollar business ($14.33bn to be exact) and that is the Microsoft Business Division.
Update: Some people have pointed out what Scoble meant is that Microsoft runs fourteen (14) billion-dollar (valued) businesses, which makes more sense grammatically. In which case, puts a dent in my speculation.
Whereas Windows falls under the Client division and Azure falls under the Server and Tools division (they have since merged as the platforms division, but remain separate in financial reports), the Microsoft Business Division among other (and obviously extremely profitable) initiatives is responsible for the Office suite.

The second clue Scoble provides is that it runs in a browser, Chrome and Firefox specifically, and at least witnessed being demoed in Firefox. Whilst it's not impossible whatever this is is not a Silverlight application, I'm more inclined to guess it's an AJAX web application.
To play devil's advocate however, Scoble specifically refers to "part of the Microsoft announcement" runs in a Chrome and Firefox, which could be interpreted one of two ways. Either it is not entirely a web application or that it is not 100% compatible with Chrome and Firefox.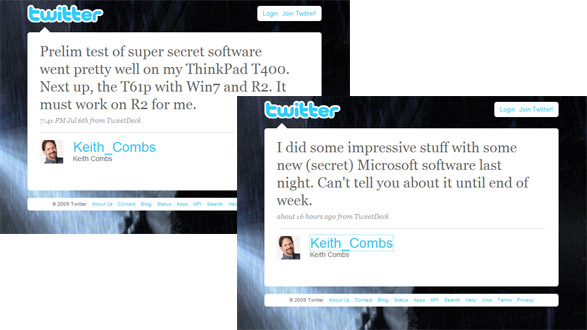 To add a bit of seasoning to the salad mix if you will, Microsoft evangelist Keith Combs had been tweeting this week of some "secret Microsoft software". Whilst I'm not sure if the two tweets are related to each other or related to this announcement, it appears at least one of the softwares would allow users to create content, which fits with the Office clue. If he is talking about the same software, why he doubts it might not work on Windows Server 2008 R2 remains a mystery. What Keith was referring to has since been revealled to be Expression Encoder Screen Capture.
Putting together all the clues, I'm going to speculate this is the public release of the Microsoft Office Web application that was announced back at PDC08, possibly with some new major features or capabilities that wasn't demoed initially to take it above and beyond just Microsoft's version of Google Docs. If it is indeed Office Web, it will certainly have to compete with the mindblowing collaboration features of Google Wave which sets the bar pretty high.
Nonetheless, there's always the chance that I'm way off and it could be something complete different, but hey, that's the price of admission for the speculative rollercoaster. 🙂
Update 2: Some people have provided me with more information that confirms the big announcement on Monday will be indeed Office Web application.
Update 3: Commenter "Bob" points out that the company that previously owned Office.com has recently changed their domain. Microsoft Office Web applications moving in? The plot thickens.
Update 4: It has been confirmed Keith wasn't referring to the same thing as Scoble. The Office Web application prediction lives on nonetheless.