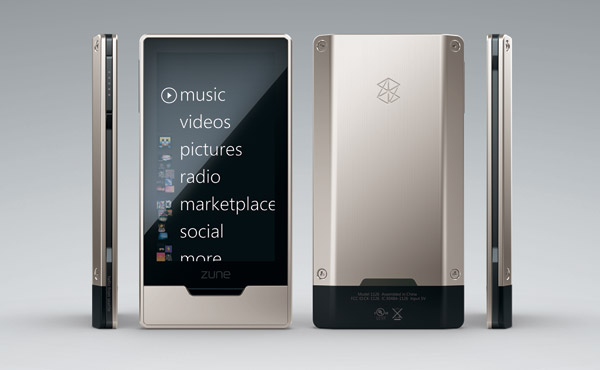 Whilst attention has shifted towards Windows 7 and Office 2010 for the time being, Microsoft's other major product launch up for this holiday season, the Zune HD, is always at the back of our heads. On one hand, the unceremonious announcement of the Zune HD late May helped confirm many of the rumored technical specifications of the device, but at the same time there is still a lining of mystery over how its browser works and what other capabilities the device may have.
A trademark application by Microsoft early last week could be an indication of what more the Zune HD might do, applications.
Trademark application 77775625 for the trademark "ONEAPP", or alternatively pseudo-marked "One Application", is classified as a trademark for "online retail store services facilitating the download of computer software for use on mobile phones, media players and other portable electronic devices".
Furthermore, a separate classification describes,
computer software for allowing mobile device users to send messages, make payments and access and play music, games and videos on mobile devices; computer software platforms for developing mobile applications; computer software, namely, software development tools for the creation of mobile applications; computer software for running retail store site for purchase and download of mobile applications over wireless networks
Of course all of this is assuming the mention of "media players" is intentional, but considering the Zune has always been a Windows CE device under heavy disguise, it's not entirely far-fetched either. Certainly if XNA games is any indication already, then these devices are perfectly capable of running practical applications.
What's even more interesting is the actual word, "OneApp", which definitely gives the impression that the applications are somehow universal across classes of devices. It's no secret that the Windows Mobile 7 team is collaborating with the Zune team. Write-once apps that works on both Windows Mobile and Zune? Wouldn't that be nice.