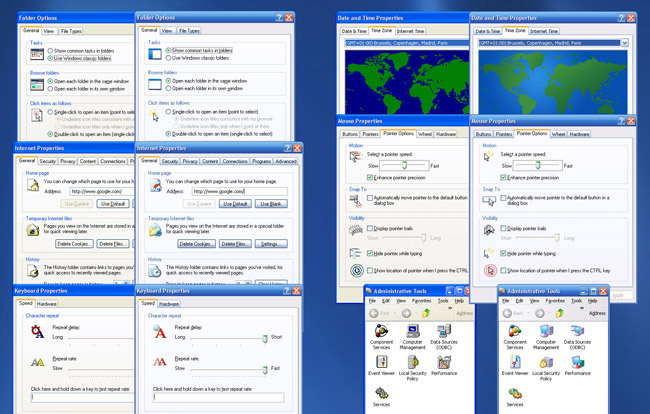 For an eight-year old operating system, it now looks more complete than ever before. Whilst I don't like to encourage extending the lifespan of an OS that should have retired long ago, at the same time I must commend the work of a noble grassroots effort who's put together a neat resource replacement package called "XPize" now in its fifth and hopefully last version.
The goal of the "ize" projects including "XPize" and "Vize" for Windows XP and Vista respectively is to ensure consistent looking operating system by addressing all the UI quirks Microsoft didn't. The screenshot above is just a sample of some of the graphics resource replacements XPize 5 implements.
The project now led and solely developed by David Rees who not long ago revived the project after it had become abandoned due to a lack of continued development also includes a completely new open-source resource-patching framework called Anolis, including but not limited to the awesome resource viewer Anolis.Resourcer. Although XPize is built with Anolis, it actually allows anyone to easily put together a resource-replacement package that can be safely installed on any version of Windows, 64-bit included.
Naturally, as the attention turns to Windows 7, David is already beginning work on, you guessed it, "Sevenize". As a starting point, David hopes to address some of the still outstanding Windows 7 UI quirks published on the Windows 7 Taskforce. Of course if anyone is interested in contributing to the project, keep an eye out for the project website and forums (not yet set up).
And only on Windows can there be an ecosystem around fixing the operating system. 😉