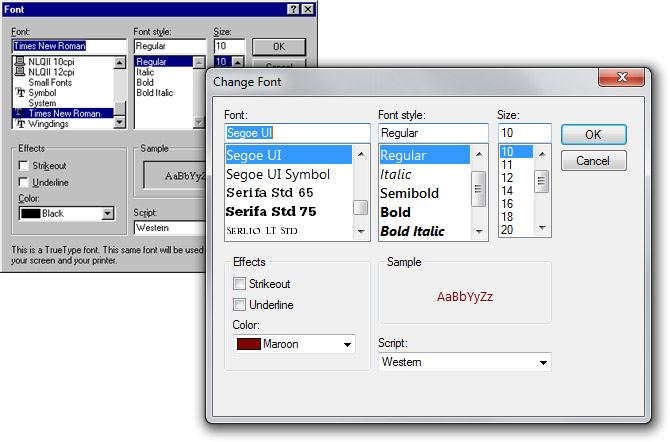 Image credit Windows 95 "Choose Font" dialog: GUIdebookgallery.org
I'm not sure how many people have noticed this before today, but I think someone at Microsoft deserves some recognition and geek credit for updating the "Choose Font" dialog window for the first time since Windows 95 almost 15 years ago. In Windows 7, this system dialog now presents live previews of the fonts using the actual typeface, similar to what Microsoft Office has done for sometime now.
Although I admit this isn't a very commonly used user interface item – I'm even surprised I noticed it at all whilst changing the color of my text in Windows Live Messenger, I think it's pretty cool someone put in the effort to modernize this feature when there was not much incentives to do so – one of many contributing factors to why there are so many UI quirks in Windows. A trend I hope continues for future Windows releases to come.
Speaking of fonts, the typography group at Microsoft also launched this neat mini-site dedicated to fonts in Windows 7. Most notably they point out there are over 40 new fonts in Windows 7 many of which are dedicated to non-English languages. Particular, two new fonts which I think deserve more attention are "Segoe UI Light" and "Segoe UI Semibold" which are excellent variants of Segoe UI.