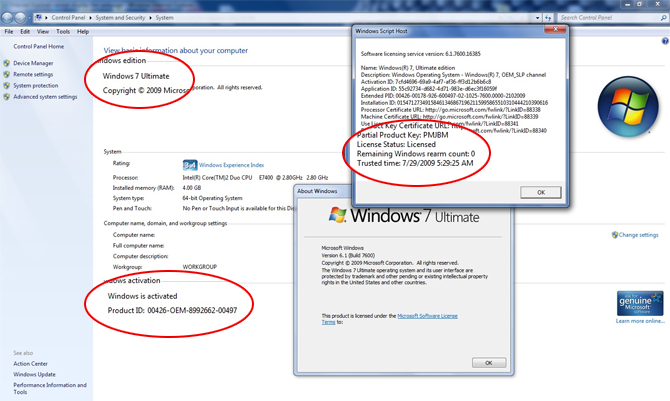 Image credit: user "arabmed" on mydigitallife.info forums
The flawless track record of anti-piracy schemes continues to shine as today Microsoft's Windows Genuine Advantage just failed every paying Windows 7 customer and customers to be. An advantage I'm sure all those people who pre-ordered Windows 7 sees very clearly now. Cue the Microsoft A-Team.
Thinking of simpler times, it looks like things haven't changed all that much since Windows XP.
P.S.: I am not be posting links to how this is done and I'd encourage commenter not to either. It's too complicated at the moment. Just kidding 😉
Update: Microsoft's Windows Genuine Advantage team claims they are able to and will be blacklisting the leaked OEM master key. Users who have used this "hack" are warned their Windows will become deactivated.
Yesterday we were alerted to reports of a leak of a special product key issued to an OEM partner of ours. The key is for use with Windows 7 Ultimate RTM product that is meant to be pre-installed by the OEM on new PCs to be shipped later this year. As such, the use of this key requires having a PC from the manufacturer it was issued to. We've worked with that manufacturer so that customers who purchase genuine copies of Windows 7 from this manufacturer will experience no issues validating their copy of Windows 7. At the same time we will seek to alert customers who are using the leaked key that they are running a non-genuine copy of Windows. It's important to note that no PCs will be sold that will use this key.

Windows 7 already includes an improved ability to detect hacks, also known as activation exploits, and alert customers who are using a pirated copy. There is a hack that is said to enable, when paired with the leaked key, a system to install and use a copy of Windows 7 Ultimate. Both the hack and the key are indications that a copy of Windows may not be genuine. The Windows Activation Technologies included in Windows 7 are designed to handle situations such as this one, and customers using these tools and methods should expect Windows to detect them.
Whilst I acknowledge their noble efforts to prevent piracy for the time being, I can't help imagining another OEM master key will eventually be leaked that they can't block because PCs sold would have used it. What will happen then?