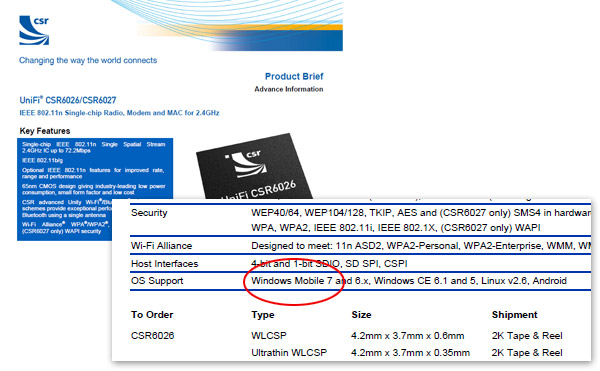 A tiny piece of silicon has caught the attention of my peripheral vision perhaps providing some clues to just how far Microsoft is in to the development of Windows Mobile 7, or from the glass is half full perspective – how close Windows Mobile 7 might be to market.
Cambridge Silicon Radio, a UK company that specializes in chips for mobile devices (who just merged with the world's #1 supplier of GPS chips SiRF), announced mid-June the UniFi CSR6026/CSR6028 chip, a single-chip solution to deliver WiFi 802.11n support in mobile embedded devices such as smartphones. The most noteworthy of its specifications is a mention of "Windows Mobile 7" in its list of supported operating systems, on top of "Windows Mobile 6.x, Windows CE 6.1 and 5, Linux v2.6, Android".
Assuming the specification is accurate (and it's hard to imagine it being a typo of Windows Mobile 6.5), it means either CSR engineers are in possession of an operational time machine or that the kernel or hardware interface layer of Windows Mobile 7 have already been finalized by Microsoft. I'll let you decide which one is more plausible.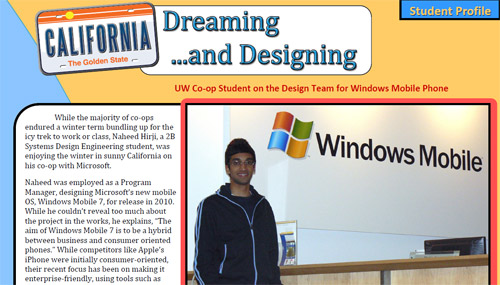 On a related note, a student newspaper at the University of Waterloo interviews student Naheed Hirji who worked at Microsoft during winter break on Windows Mobile 7. Whilst Naheed appears extremely well trained by the Microsoft public relations folks on disclosure, he confirms WM7 is to be released in 2010 and reveals "the aim of Windows Mobile 7 is to be a hybrid between business and consumer oriented phones". Right, whatever that's suppose to mean. You win this round ambiguous marketing speak!