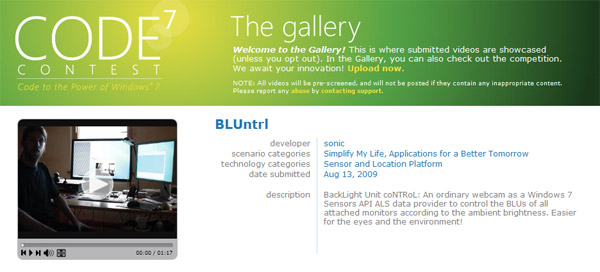 If you have a webcam attached to your desktop computer then there's a good chance it's either sitting around gathering dust or taking hourly pictures of your uneventful window. One way or another, getting any value out of it when you're not video chatting would be a nice bonus. Now with Windows 7's Sensors API and a neat application, not only could it be productive but your eyes might thank you for it.
One of the more interesting entries into the Windows 7 "Code 7 Contest" is an application called "BLUntrl". This conceptually simple but highly practical application lets you do on your desktop what newer model laptops also do – automatic backlight control.
However since desktops don't have ambient light sensors built-in, this application turns your webcam into one through the "magic of software" and then hooks into the native Windows 7 Sensors API and the monitor configuration APIs to adjust the backlight of all your attached monitors for optimal brightness, according to ambient lighting conditions.
Anyone who use a computer near a window can easily testify how much lighting conditions can change and affect the readability of monitors. Also, night owls like myself will also know just how glaring a brightened monitor can be in a dark room. In both cases, adjusting the brightness can help.
In the accompanying video submitted by the developer he also suggests building in a feature that can detect motion using the webcams which perhaps could be used to intuitively suspend the monitors if the user leaves the desk.
[flv:code7_BLUntrl.flv 500 375]
The Code 7 Contest ends October 10. Good luck "sonic".