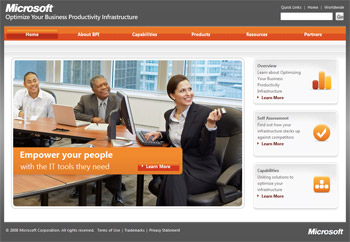 Up and until now I've avoided promoting online gambling services and would discourage people from participating, but I'm making an exception for this one.
If you thought the recent Microsoft racial diversity photograph manipulation kerfuffle couldn't get anymore ridiculous, then why not get out your wallet and bet on it.
One particularly clever gambling site, Paddy Power, is jumping on the advertising racial diversity issue by hosting a light-hearted bet on the racial mix of future Microsoft's advertising campaigns for the upcoming Office 2010 product.
PADDY POWER PRESS RELEASE
27 AUGUST 2009. FOR IMMEDIATE RELEASE

BOOKIES TIP 2010 OFFICE TO BE RACIALLY DIVERSE

[Dublin, Ireland] Following the recent controversy surrounding an advertisement on Microsoft's Polish website where they superimposed the head of a white man on a Afro-American man's body, Irish bookmaking outfit Paddy Power are taking bets on the race of those who front up Microsoft's forthcoming major global advertising campaign for the launch of MS Office 2010.

According to Paddy Power a racially diverse mix of white, Afro-American and Asian actors/models is the most likely option and is the bookies 11/10 favourite. A white and Afro-American double act is the 9/4 second favourite with white only at 4/1 and Afro-American only at 6/1

Paddy Power said "This gaffe must have resulted in plenty of red faces in Microsoft but I'm sure that when it comes to the launch Office 2010 they will be ultra careful not be offend anyone"

Race of those who appear in MS Office 2010 global print advertising launch campaign

11/10     White, Afro-American and Asian
9/4       White and Afro-American
4/1       White only
6/1       Afro-American only
8/1       Asian only
10/1      Afro-American & Asian
12/1      White and Asian

All prices remain subject to fluctuation.