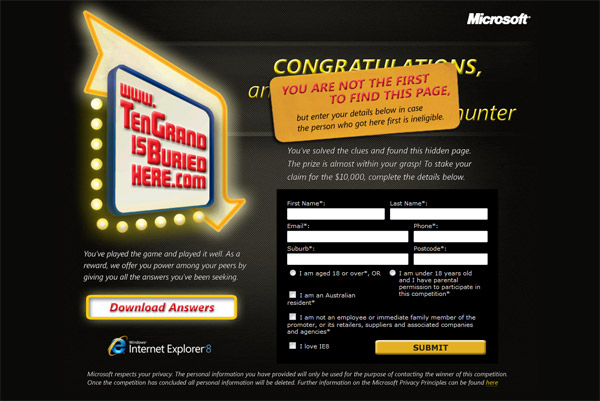 The Microsoft Australia competition "Ten Grand is Buried Here" which stirred some up a little bit of controversy just a little over two months ago has just come to an end earlier this week with at least one person who claimed the $10,000 prize on a hidden website. Whilst a winner has not yet been formally announced, it's believed that user "puppydog4l1f3" on the Australian Whirlpool forums was first to claim the prize. The winner is Gavin Ballard of Brunswick East, Victoria.
The marketing agency behind the competition on behalf of Microsoft Australia, Wunderman Australia, wrote on the competition's Twitter page,
"Congratulations to all who played. We hope you enjoyed the thrill of the hunt and that your brains don't hurt so much from the last 2 months. This game was designed to create excitement and fun on the internet by doing something new and different, thanks to Internet Explorer 8."
Now that the competition is over, it can be revealed that the hidden website was www.fastsafeprivatebetter.com – a nod to the features of Internet Explorer 8. And if figuring out the address wasn't enough, one would also had to figure out the password which is now known to be "courval".
Although you might have missed out on the ten grand, if you're still interested in the puzzle, I've cached a list of all the clues (plus some future clues) and their respective answers in a PDF document. Be careful though, reading it may make your head explode.