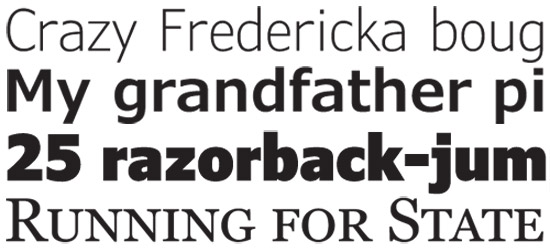 From top to bottom: Verdana Light, Verdana Semibold, Verdana Black and Georgia Small Caps
In a timely announcement, Microsoft and its typography partner Ascender Corporation has announced updates to the infamous Verdana and Georgia font families coming early 2010. Of course this comes just after IKEA made the surprising switch to Verdana for its corporate typeface that has upset many font-conscious designers.
The project started a year ago is said to address at least one major criticisms of IKEA's use of Verdana that it is not optimized for large print since it was originally designed almost exclusively for web use. Other improvements for both Georgia and Verdana will include "new weights and widths beyond the original four fonts in each family, extensions to the character sets, extensions to the kerning and OpenType typographic features for enhanced typography".
Hopefully both the updates to Verdana and Georgia (already at version 5 in Windows 7) will be available to Windows users for free download when they're available. Anything that could expand the default arsenal of fonts in the PC is good news for web designers. Even Comic Sans.
Update: Ascender's current plan is to sell/licence the new fonts to Office users and creative professionals, however the project is in its early stages and licensing plans has yet to be finalized.