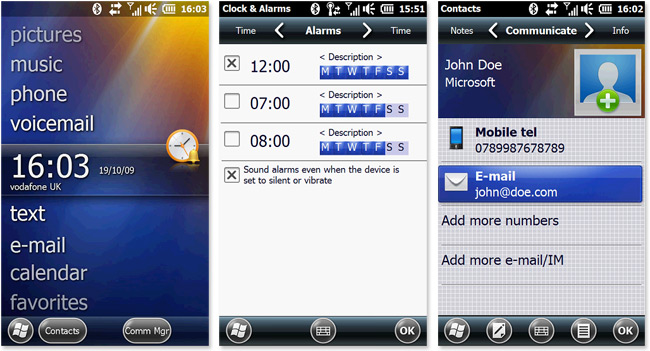 Windows Mobile 6.5.1 screenshots courtesy Patrick/OSNN.net
Most of you probably know by now that Windows Mobile 6.5 is not the be all end all Microsoft mobile operating system. However, what you might not know is that Microsoft has already up its sleeves another revision of Windows Mobile 6 – unofficially dubbed by the enthusiast community as 6.5.1 – that's faster, sleeker, more touch-friendly and in my opinion, a much better upgrade than 6.5.
Those familiar with the Windows Phone modding scene might have seen since late August, builds numbered 23xxx and up started surfacing on the web. Those brave enough to have installed these builds began noticing a slew of updates to the user-experience of Windows Mobile that is arguably necessary but missing from WM6.5.
For example, the "Start button" and "Close" button have all been moved to the more accessible lower toolbar, freeing up the entire top row for status icons which is now thinner. Tapping on this row now expands a tray-like widget with large icons that provide quick access to system notifications and settings.
On the UI side, controls including buttons, checkboxes, radio buttons and the like have all been remastered, finally replacing the Windows 3.1-like graphics with modernized anti-aliased equivalents. Tabs have also been replace with a new "pivot" control that sits at the top of the screen where users can flick and toggle between.
Finally, even more recent builds include a new contacts application that is much more touch-friendly with larger buttons (albeit with a few bugs).
With all these changes and more already implemented and polished, I have to wonder why faced with inevitable criticism that WM6.5 is not enough of an improvement Microsoft didn't hold off until all these changes were implemented for the official Windows Phone relaunch.
Until Windows Mobile 7, this is probably as good as it's going to get on Windows Mobile 6. If you too are feeling a little adventurous, take a look over at XDA-developers forums to see if there's a 6.5.1 ROM for your device already.